Chris Curtice & Wildhorses Return to the Rodeo Dance on Saturday, April 28, 2018
For an eighth straight year, Chris Curtice and the Wildhorses will headline the Rodeo Dance, Saturday, April 28 from 7:30-11:30pm.  Providing a mixture of high energy, classic, newer, and original music, made it easy for the Rodeo Association to ask them back.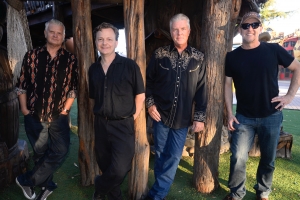 Formed in 1997, CC&W play a variety of events across the Western United States, and have shared the stage with several of country music's superstars, such as Colin Raye, and Sawyer Brown, Blackhawk, Lori Morgan to name a few.  Based in California, CC&W includes Chris Curtice, Jeff Bretz, Louis Fudale, Cary Park, and Eva Scow.
Performances at the Rodeo Dance continues to generate many new fans for CC&W, and you won't want to miss them this year.  You're guaranteed a great time!
Tickets for the dance are $10.00 per person and available from the Clovis Rodeo Association through the ticket office, on-line sales, or at the door the night of the event.  (You must be 21 or older to attend the dance.)