It's April and Clovis Rodeo is finally here!
Whether it's your first time here, or you're a lifer, you know you're in for a good time!  You can count on Clovis Rodeo to show you their best with world-class athletes, world-class entertainment, and you know you're gonna have the best time!
We have a fantastic team for all rodeo performances, and we are honored to have them partner with Clovis Rodeo.  And absolutely everyone is excited for rodeo to begin as the cowboys and cowgirls make their final  preparations, the audience finds their seats and you feel the excitement building.  And there it is – that familiar voice over the sound system -welcoming everyone with that all-familiar phrase . . . 
Let's Get Ready to Rodeo!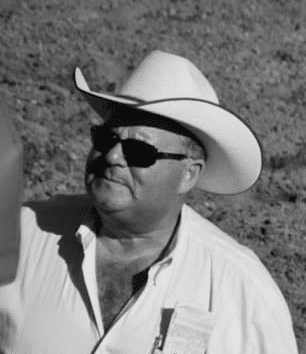 Working the arena takes many hands. From the stock pens to the chutes and gates, from the east end catch pens to the soil quality in the arena itself – one of the most important jobs is that of the arena director who oversees these areas and the arena crew who pulls it all together. The arena director also works closely with stock contractors making sure animal safety is a top priority. When it comes to organizing the livestock, cowboys, and staff needed for a rodeo, the one key person who makes it happen is Arena Director Vince Genco.
While involved in the cattle and horse business with partners Bill and Joan Verdugo, he was introduced to the Clovis Rodeo in the late 1970's by past grand marshal, Emmett Rigsbee. Vince works at rodeo all year and appreciates the support of his family.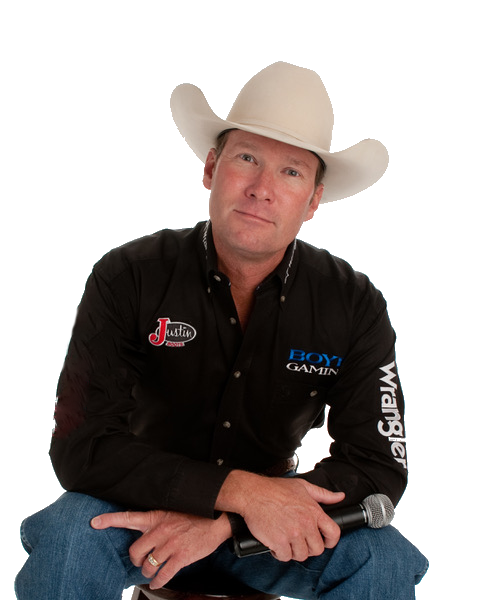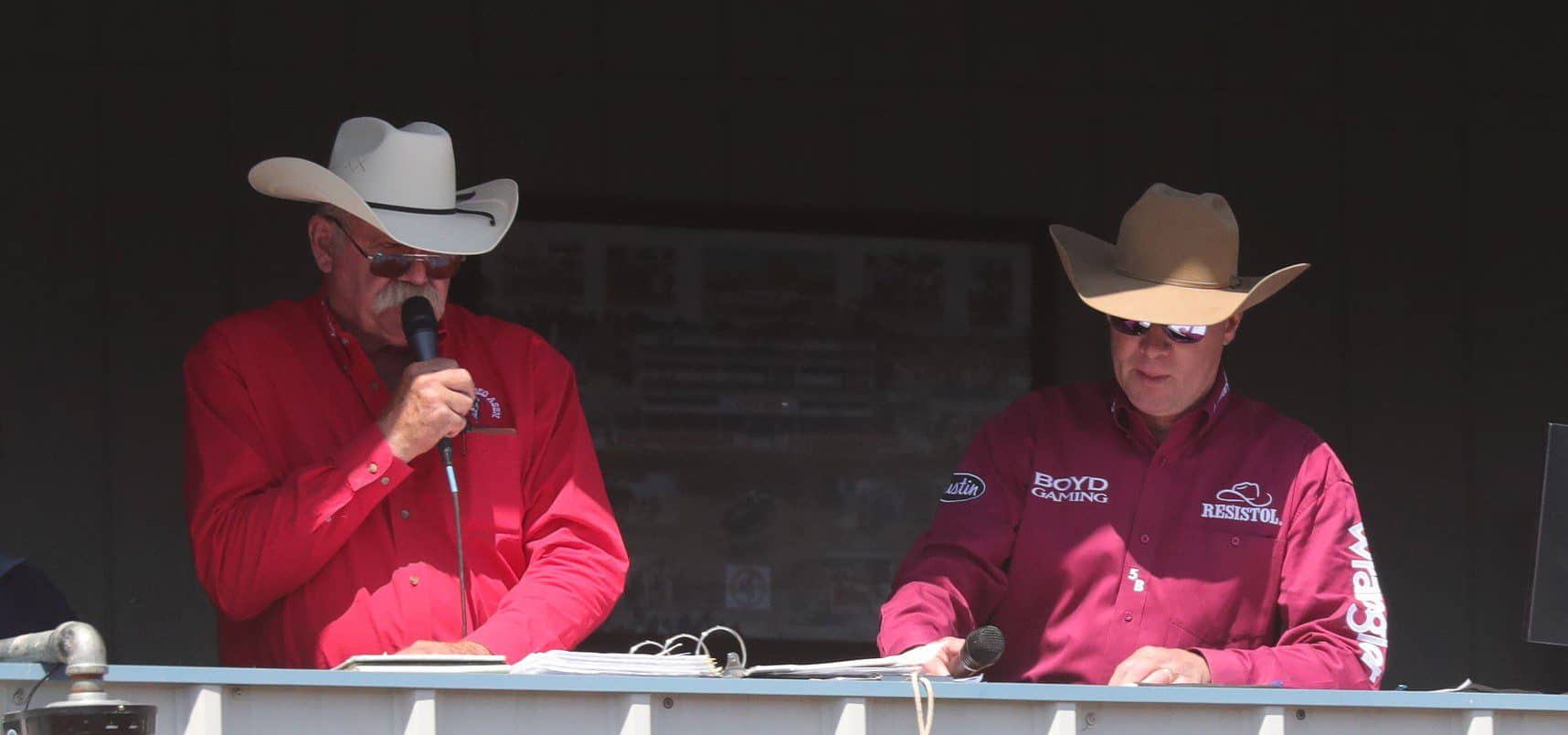 As a PRCA announcer, Wayne Brooks brings an enthusiasm to the sport enjoyed by thousands across the nation. Like many announcers, his rodeo career began in the arena as a contestant. While competing in the roughstock events, he gained an insight into the sport — which he presents to the audience to make them truly a part of each performance. His broadcasting background has proven invaluable in rodeo promotion and sponsor recognition. Combining these experiences, Wayne creates an announcing style that is both informative and entertaining. Whether it's wild and western or polished and professional; it's excitement at its best!
A PRCA Member since 1994, Wayne has had the honor of being chosen Announcer of the Year five times. Further, he has been selected as one of the Wrangler National Finals announcers nine times, where he's had the pleasure to work alongside Bob Tallman, Randy Corley, and Boyd Polhamus.
Though he was born in Prescott, Arizona, he was reared on the ranchlands of Wyoming and Colorado. He believes it was this raising that instilled in him the importance of preserving the heritage of the West. He continues to give credence to the mystique of being Western at each performance he announces. He believes "being involved in rodeo has provided me the opportunity to do what I enjoy. It's the people that make a difference — and rodeo has the best."
Mark shares the announcer's booth with Wayne and promotes our rodeo sponsors, introduces our winning rodeo queen and royalty, and hosts the mutton bustin' competition. Mark has a long history with Clovis Rodeo (thanks to past Director Jay Robinson) as Mark has been working at the rodeo  and a member for over 50 years!
Born and raised in California's Central Valley, Mark Thompson was introduced to the idea of being an announcer by his friend, mentor, and 2009 Clovis Rodeo Grand Marshal Bob Robinson who asked Mark to sit at the microphone for him. About that same time while competing at Bishop Mule Days Mark met announcer Bob Tallman and they became good friends. That's when Mark was invited to come to Bob's announcing school in Oregon. Later, good friend Jon Semper gave Mark his "big break" with the chance to announce the World Champion Snaffle Bit Futurity when it moved to Fresno in 1993.
After 30 years at the microphone, Thompson has gone from the local stage to the professional announcing various events and televised shows for the National Reined Cow Horse Association, the Sacramento State Fair, American Quarter Horse Association, Bishop Mule Days and the Western States Horse Expo, while participating in many non-profits as a committed volunteer.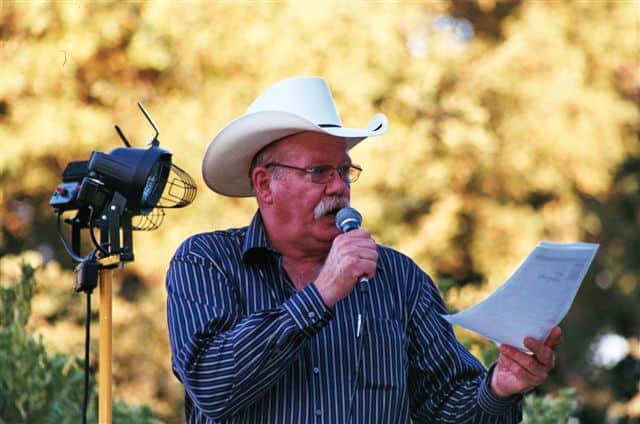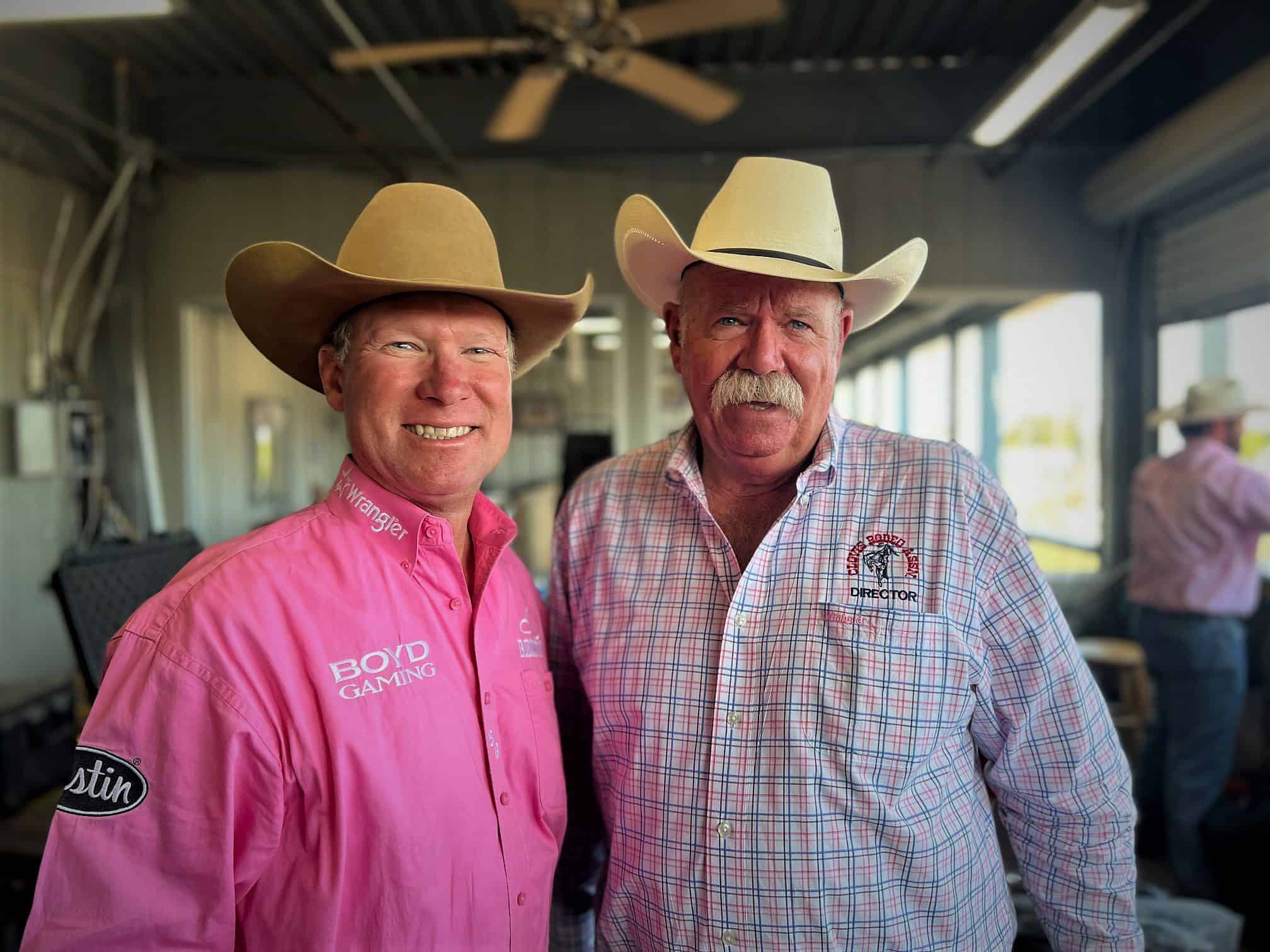 Music Director – Austin Lopeman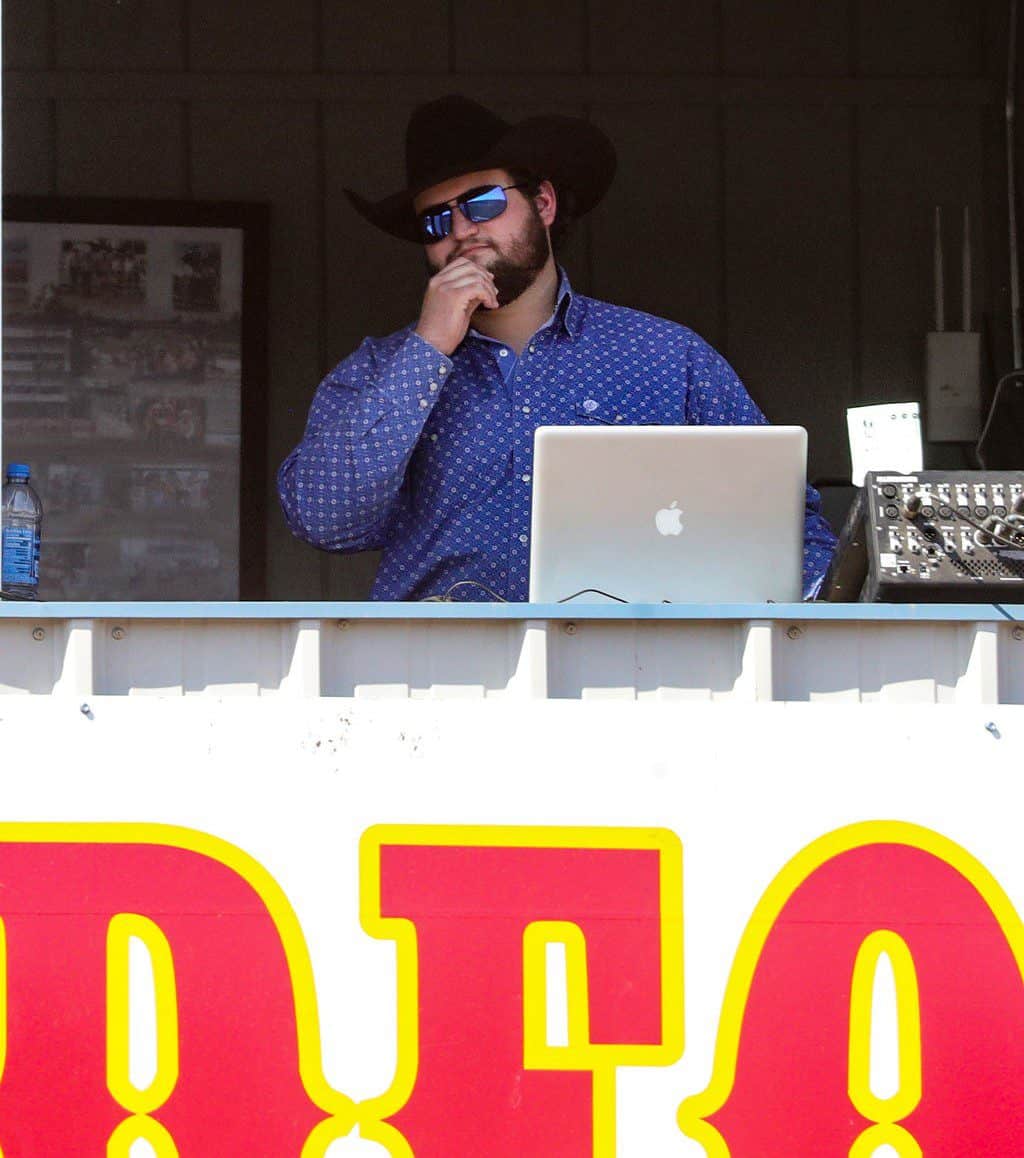 Key to any fun event is great entertainment!  And we have had the best with Chuck Lopeman as Clovis Rodeo's music director for the last 20 years.  Chuck is so well known and respected in the PRCA world he has been nominated twice for Music Director of the Year! And now Chuck's son Austin has taken over the sound business from dad and has been part of his dad's team for over 10 years, learning all about rodeos, music, timing and having fun every step of the way.  Austin continues to bring the energy and excitement to rodeo crowds and get 'em up and dancing!  He has already been nominated for PRCA Music Director of the Year!  We are so lucky to have had Chuck be part of the Clovis Rodeo family and now we are excited to be partnering with Austin.  When you hear the beat – you know it's Austin at the Clovis Rodeo!
Bullfighters: A Cowboy's Best Friend
Entertaining, tough men Josh Daries, Logan Blasdale and Shane Jennings are the dynamic team of bullfighters responsible for protecting our cowboys in one of the sports toughest competitions – bull riding.
They share the responsibility of protecting more than 45 riders participating in the PBR Touring Pro­Division event on Wednesday night and bull riders competing throughout the remainder of the PRCA Clovis Rodeo.
In the sport of rodeo every split-second decision made by the bullfighters is the difference between an injury and a cowboy who walks away to ride in the next round of competition. Their knowledge of the livestock and instinctive ability to be in the right place at the right time have made them one of the best teams in the sport. They are an invaluable part of the rodeo and we welcome them back to Clovis!
Josh Daries started out as a professional bullrider and now he's one of most respected Bullfighters in the business. He calls his hometown Salinas, Ca. but now resides in Clements, Ca. Some of his credits include 2 x PRCA California Circuit finals bullfighter. Originally from Salinas he now lives in Clements, California.
Logan Blasdale has been fighting bulls professionally in the PRCA since 2012. Some of his achievements throughout his career consist of, winning the WNFR Benny Binion bucking stock sale protection match, being selected to fight bulls at the Columbia River Circuit Finals, and most recently being selected to fight bulls at the Ram National Circuit Finals in Kissimmee, Florida. Logan has been blessed to work some amazing rodeos such as the Crooked River Roundup in Prineville, OR., Sisters, OR., Chief Joseph Days in Joseph, OR., Omak, WA., Coeur d'Alene, ID., and now he can add Clovis, CA to that list! Logan says he can't thank God enough for the people he's put in my life and the path I've been able to travel. God Bless!
Shane Jennings– 2022 was Shane's first year and he shared how 'he could not be more pleased with how well my first year as a PRCA bullfighter ended. 2023 has a great lineup for my season including Red Bluff, Redding, Clovis Livermore and others in California." Shane's parents are former 2x NFR bullfighters Kelly Jennings and Karen Jennings.  Welcome back Shane!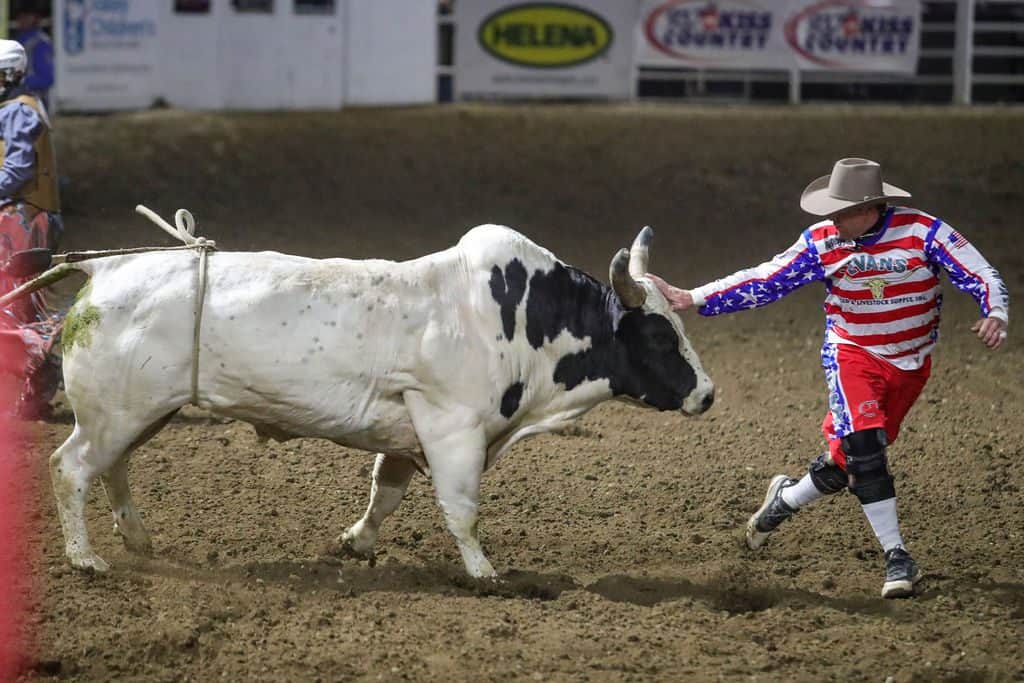 Photo Credit: Roseanna Sales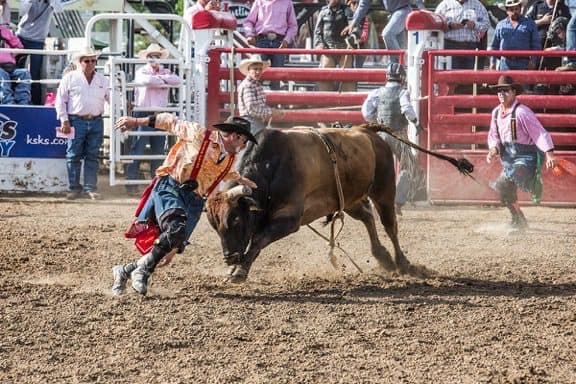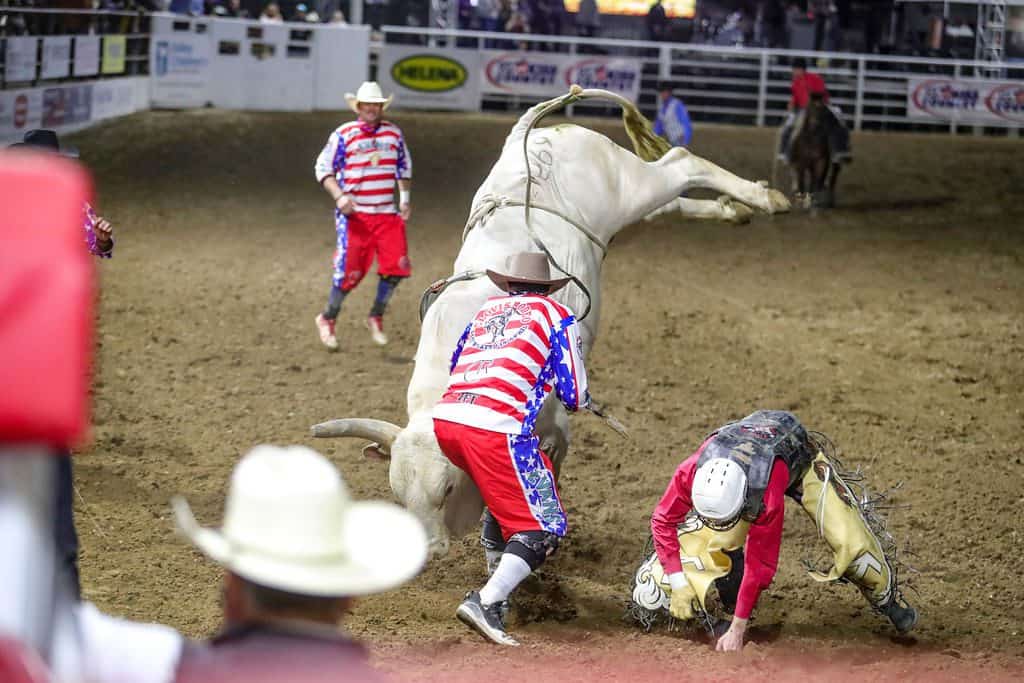 Photo Credit: Roseanna Sales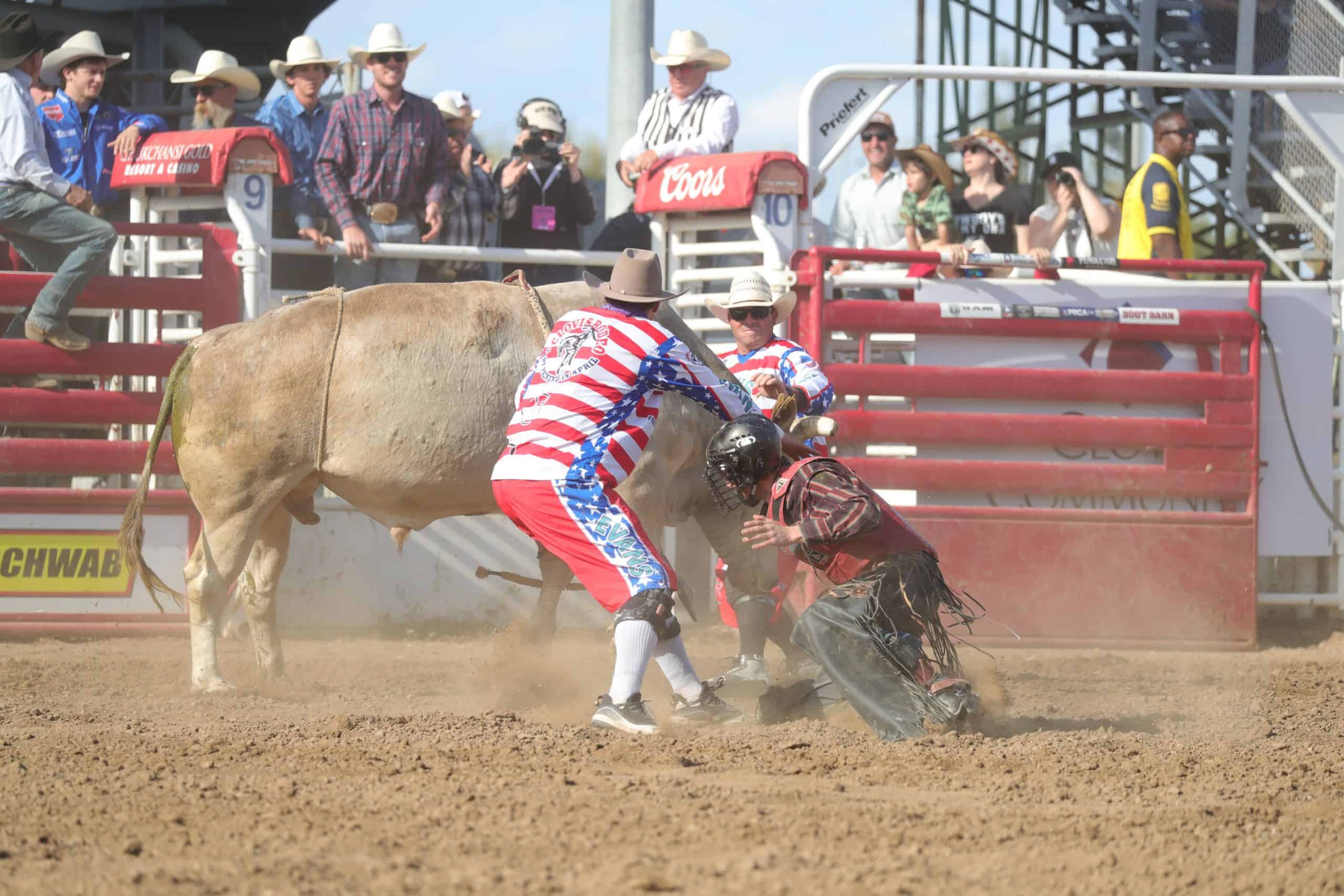 Photo Credit: Roseanna Sales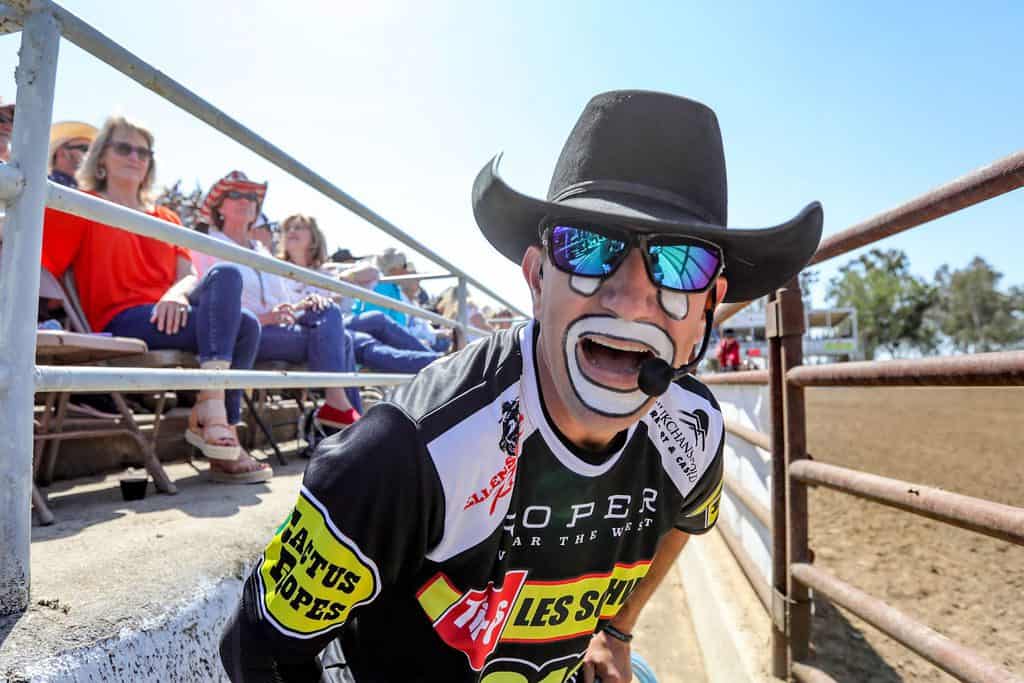 The Clovis Rodeo is thrilled to have barrelman and rodeo clown JJ Harri­son return to entertain fans. Clowning is a career Harrison enjoys and it shows in his routine. This star has become one of the most sought-after rodeo clowns. JJ's quick wit, hilarious routines and walk and talk antics have proven to be a treat for rodeo fans. His high-energy show entertains with plenty of family fun for kids of all ages. "It's not an act … I really am this goofy!' said Harrison.
Specialty Act: The Bobby Kerr Experience
Bobby has a career rich in western heritage that spans over 50 years. Born in Ontario, Canada, Bobby's passion for horses and the western lifestyle led him to pursue his dreams of training and showing in Cutting, Reining, Roping and Working Cow Horse, winning many awards and endorsements. He is the Founder of The Texas Cowboy Hall of Fame in Ft. Worth, Texas. Currently he spends most of his time on the rodeo and horse show circuit demonstrating how usable, trainable, and amazing American Mustangs are.
Accomplishments
• 4X PRCA Specialty Act of the Year
• 2x Mustang Magic Invitational Celebrity Freestyle Champion
• NFR Specialty Act
• Mustang Million Finalist with 2 horses and appears on Good Morning America
• 2x MHF Mustang Make-Over Champion
• IPRA National Finals Rodeo Showcase Champion
• Supreme Extreme Mustang Makeover Champion and Fan Favorite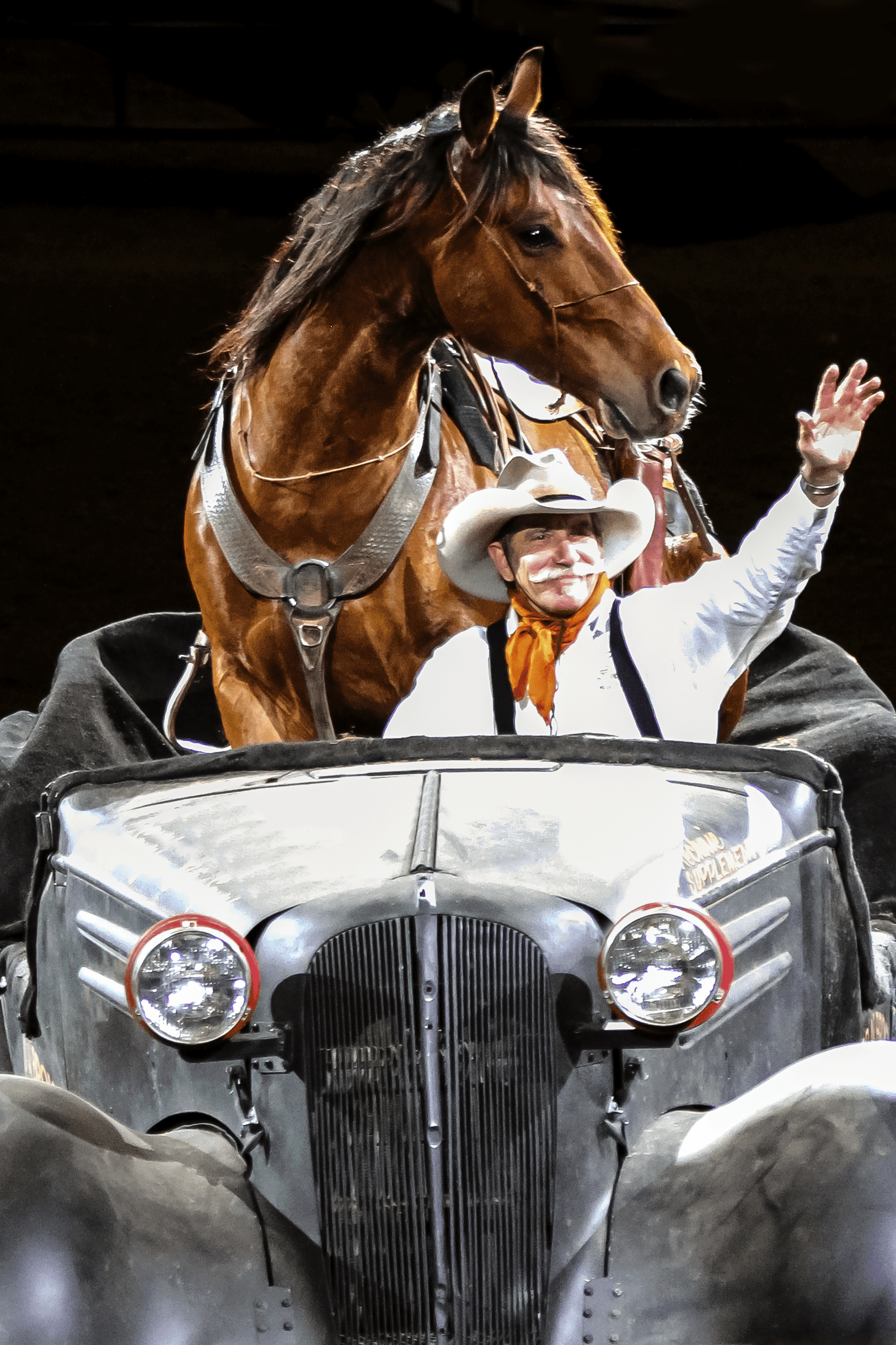 PRCA Officials: The "Eyes" in the Arena
To the rodeo fan, they may look like a strange zebra on the field in their black and white stripped vests, but to the sport of rodeo the judges are integral to making sure rules are obeyed and every second is counted.  In most professional sports, there is a referee, umpire or official somewhere on the field making sure the rules of the game are being followed. In professional rodeo, there are at least two judges at a rodeo who are responsible for making sure all of the rules of competition and livestock welfare are adhered to.
During timed rodeo events, each judge has a different responsibility from making sure all rules are followed to making sure time is called correctly in a sport where every second counts. During rough stock events, such as bull riding and bronc riding the judges try to be on opposite sides of the animal and cowboy to watch foot and spur position, among other scored aspects of the ride that can be different on either side.
Veterinarian: Dr. Troy Ford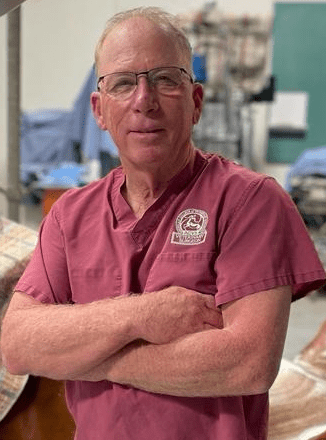 The Clovis Rodeo Association is honored to have Dr. Troy Ford as their official veterinarian. He is an accomplished large animal veterinarian and surgeon who grew up on a ranch near Clovis. Troy is often sought out by large animal owners throughout the nation for his unparalleled knowledge of animal health and welfare. His dedication to the rodeo and making sure the livestock is always healthy and safe is greatly appreciated by the rodeo committee, stock contractors and cowboys and cowgirls who participate. Ford has been involved with the sport of rodeo since growing up east of Clovis on a ranch near Marshall Station.
The PRCA requires a veterinarian on site at all performances and during slack. The Clovis Rodeo is fortunate to have someone of Ford's knowledge and experience affiliated with the event.
Ford is the sole owner of Troy Ford Veterinary Surgery Center in Clovis.
Justin Boots Sportsmedicine Team Helps Cowboys Strong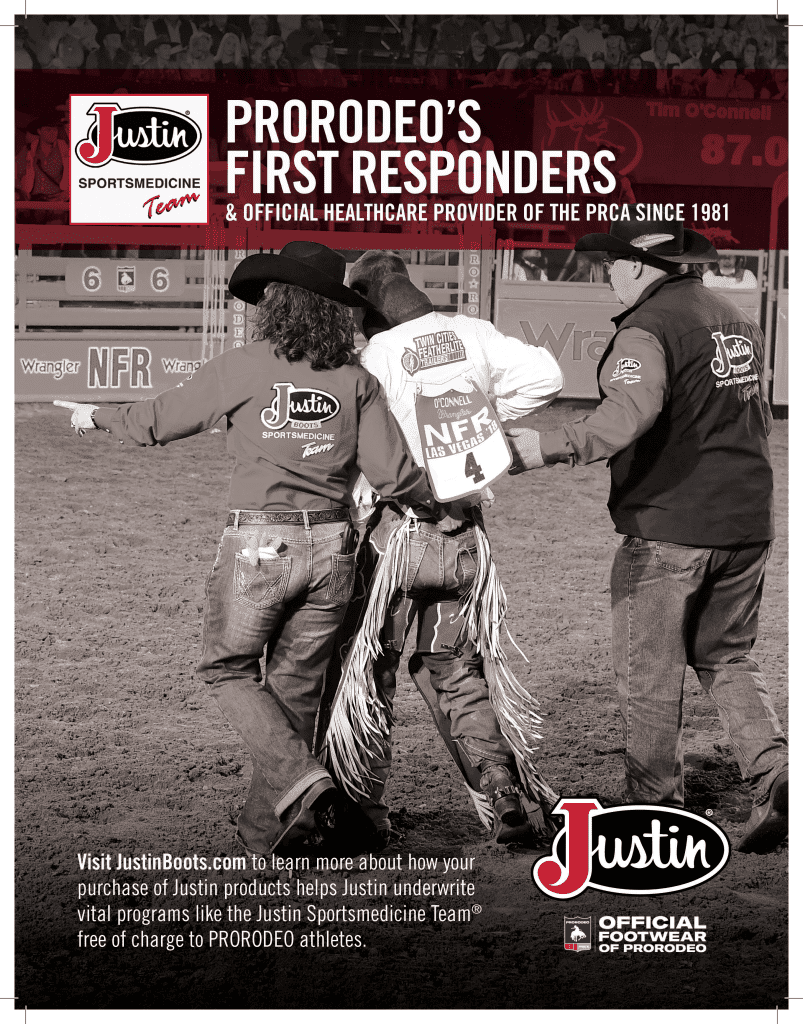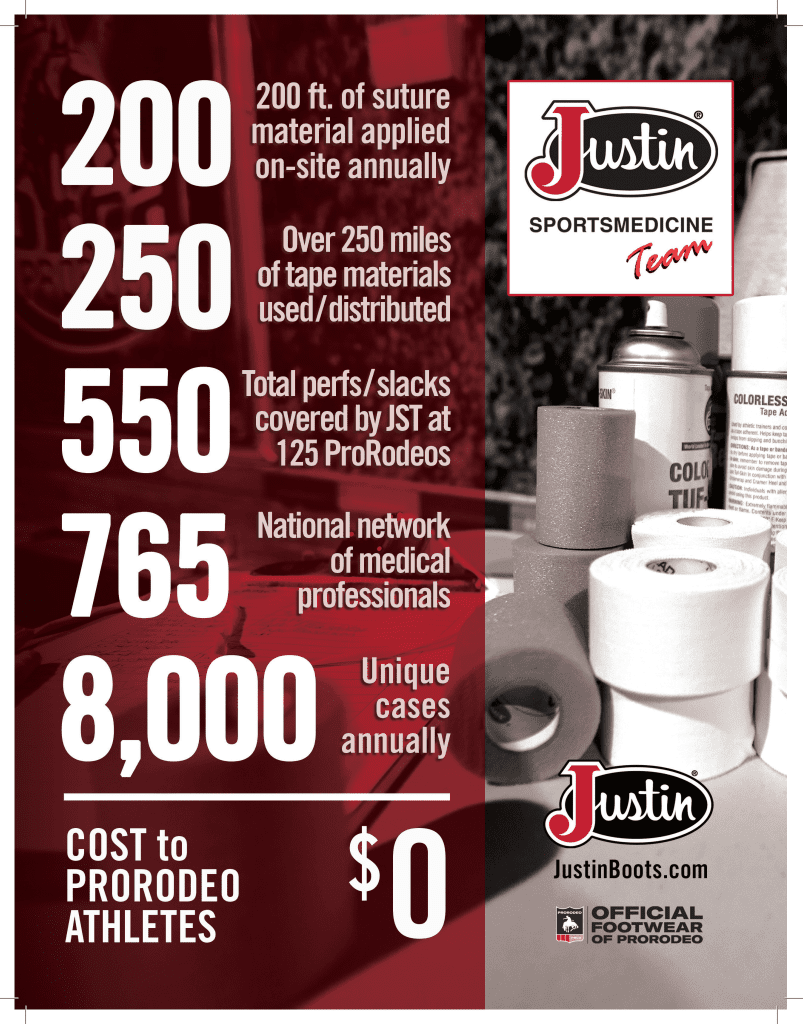 Let's face it: if professional rodeo athletes are going to risk their lives riding large, uncontrollable farm animals, they are probably going to get hurt. Thank goodness, the Justin Sportsmedicine Team (JST) is often nearby. This group of talented physicians, orthopedists, trauma specialists, clinicians, and athletic trainers serve these athletes at over 125 Professional Rodeo Cowboys Association (PRCA) rodeos annually. As a way to support the cowboys who had supported its product, the Justin Boot Company, based in Fort Worth, Texas, began sponsoring the JST at its inception over 35 years ago. As the Official Healthcare Provider of the PRCA, the JST treats over 7,000 rodeo-related injuries each year.
The Justin Sportsmedicine Team is dedicated to providing the best immediate care to those athletes who are kicked around and roughed up a bit too much. Three 40-foot trailers are hauled to outdoor rodeos to provide comprehensive preventive care and injury treatment. The Team's commitment is to get each rodeo athlete back on their feet and back into competition as quickly as is safely possible For more information visit www.justinsportsmedicine.com