Congratulations to 2023 Clovis Rodeo Queen Lilly Kier!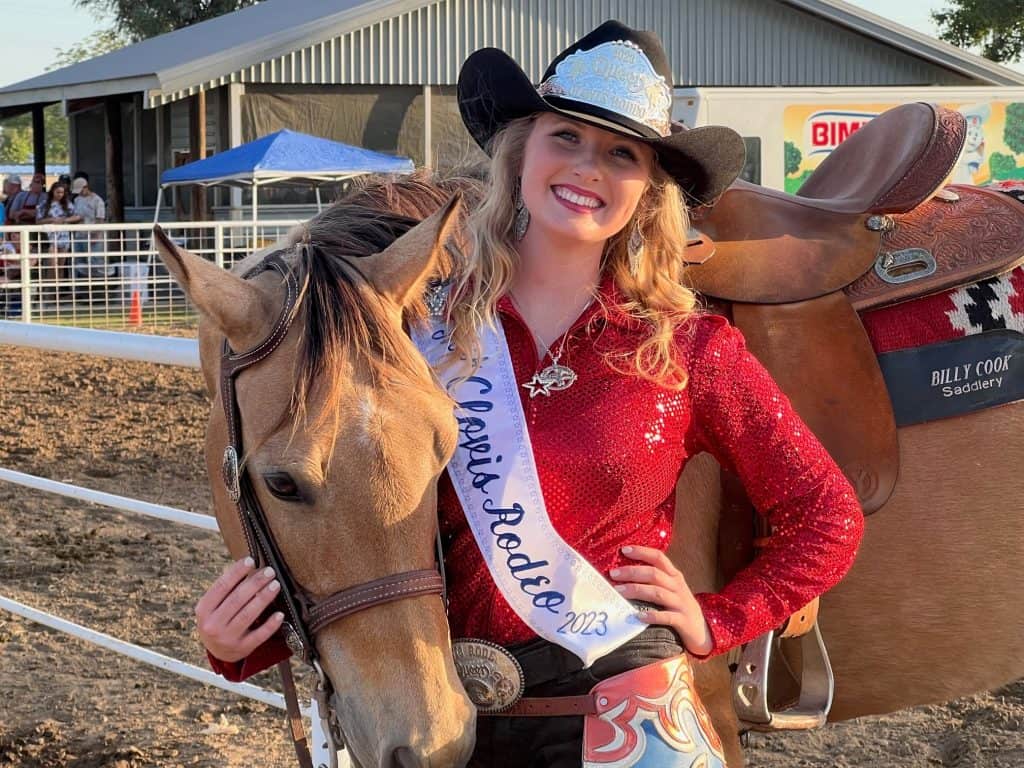 Meet Lilly Kier, sponsored by Clovis Soroptimists. Lilly is a Fresno State student pursuing a degree in agricultural business.  She would like to thank her parents, Rusty and Danielle Kier for their love and support along this journey. Lilly looks forward to building meaningful relationships with those who share her passion for rodeo and service. Lilly has been riding horses since she could walk, has competed all across the state, and has dreams to influence others to become involved in the western way of life. She plans on becoming an agricultural appraiser and help link farmers/ranchers to the financial resources available to them.
Farewell Letter from
2022 Clovis Rodeo Queen Preslye Ede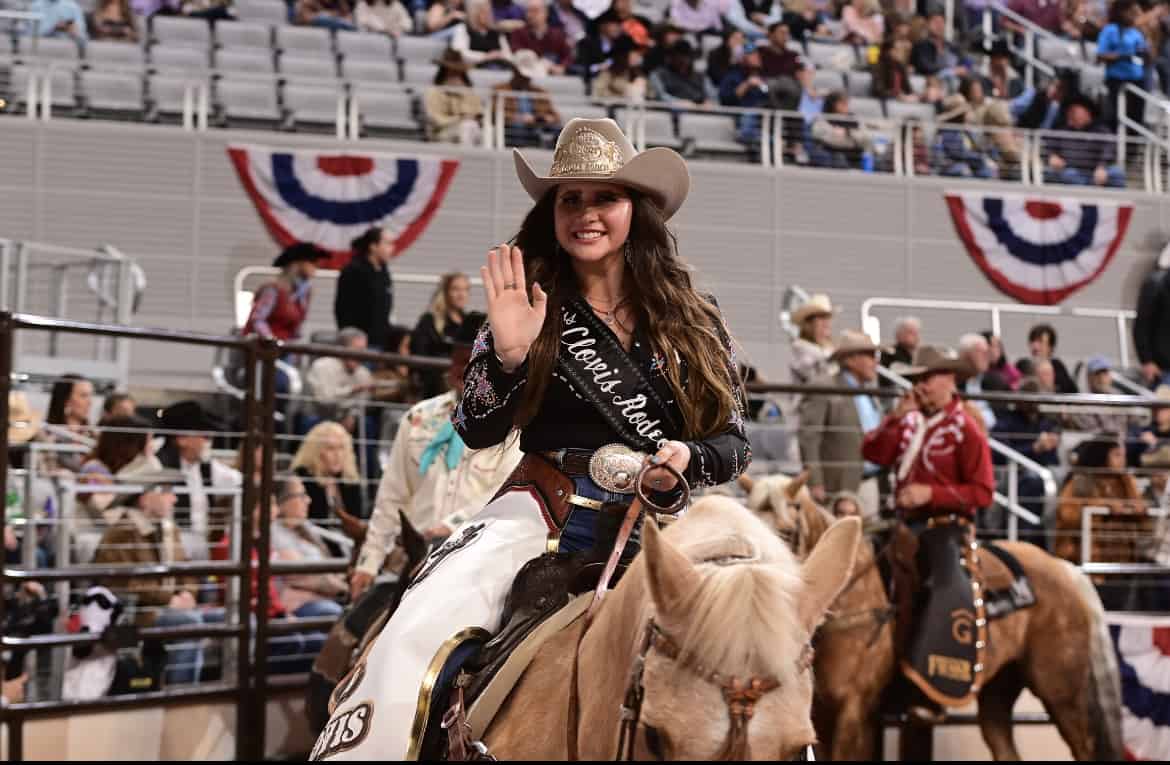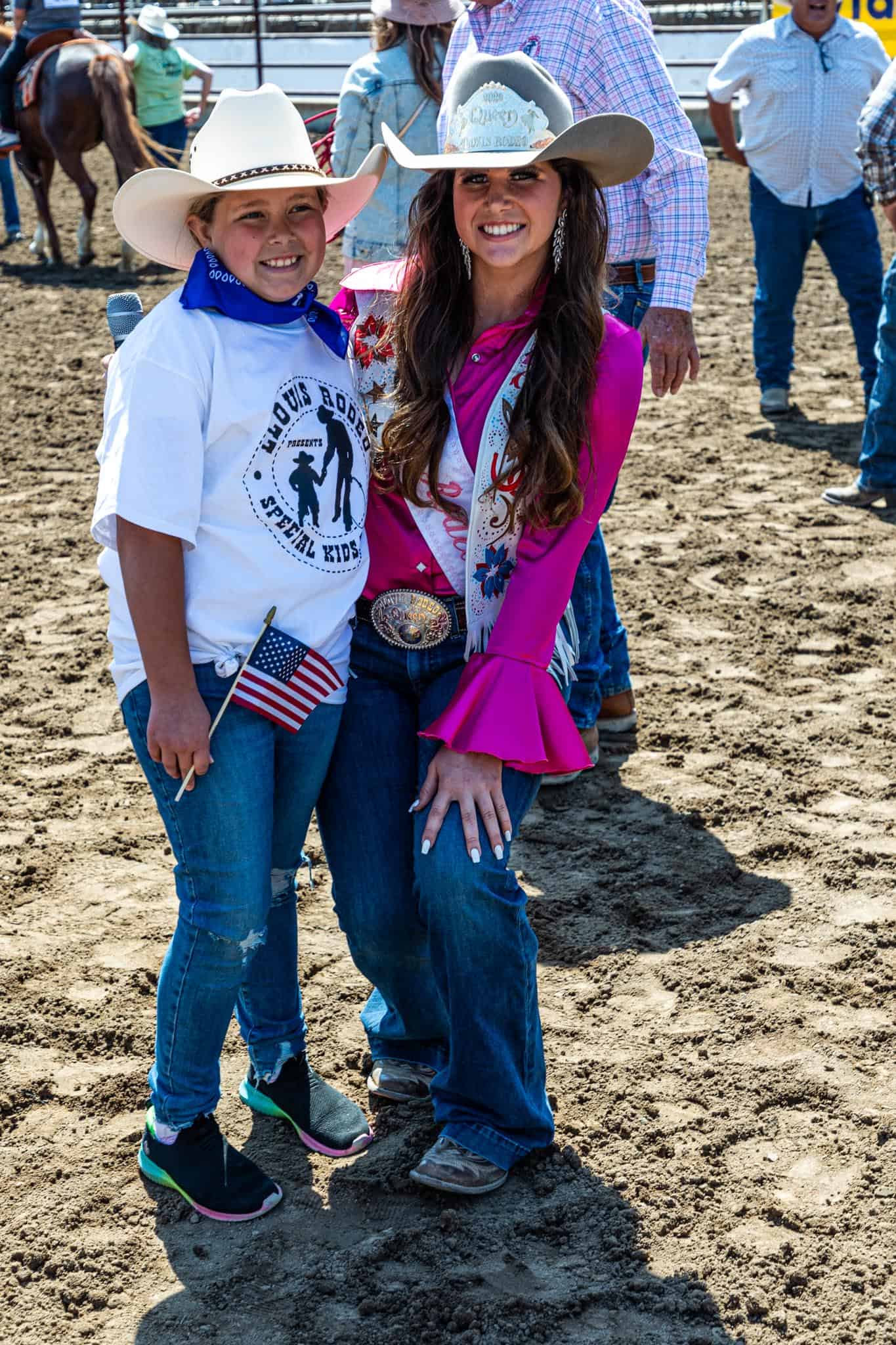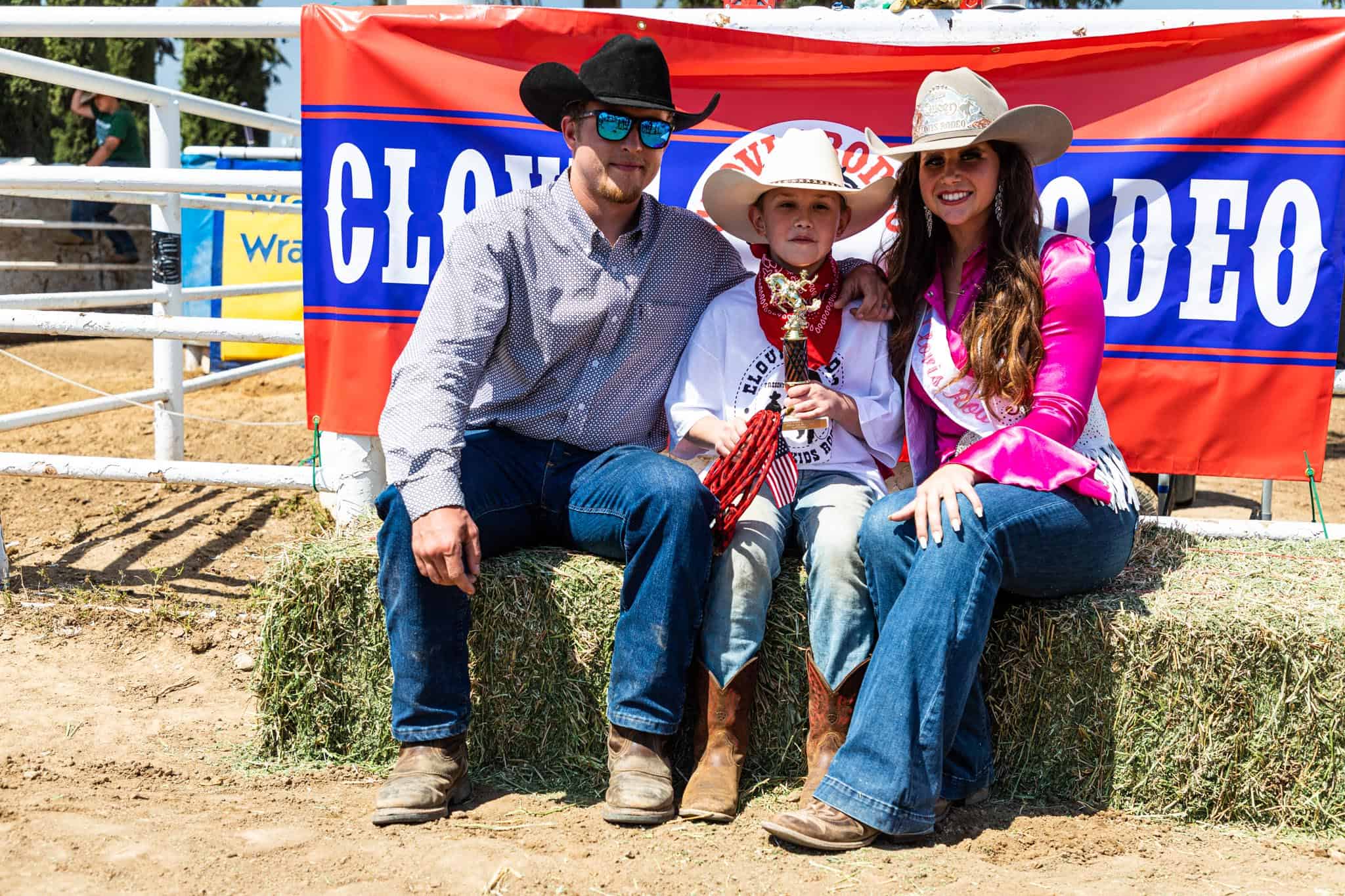 Photo Credit: Roseanna Sales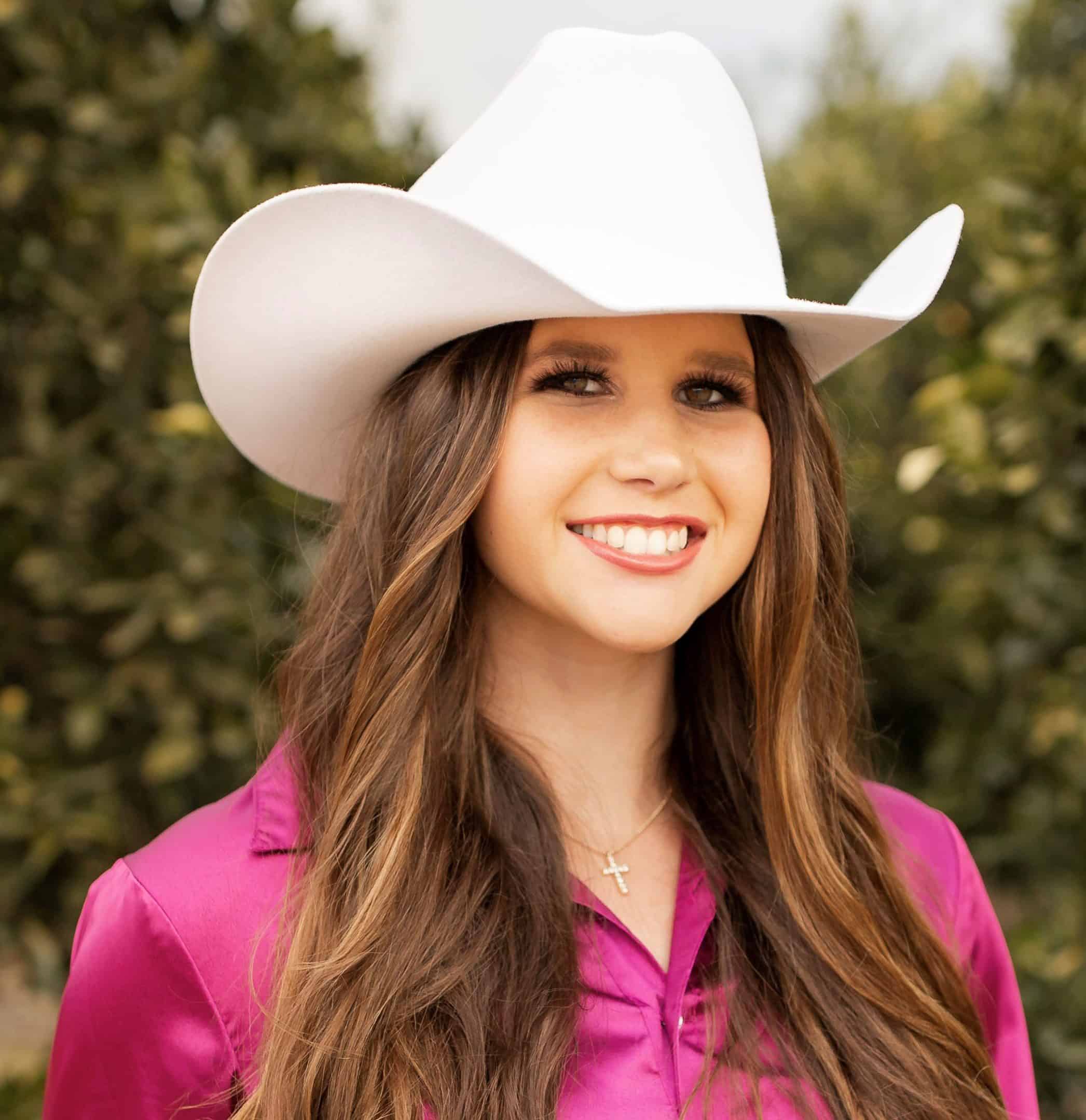 Photo Credit: Preslye Ede
Who would have thought a question as simple as "Can I have a pony?" would lead to an incredible and unbelievable year thirteen years later as Miss Clovis Rodeo 2022!
My heart is so full as I reflect on one heck of a year! This past year I was extremely fortunate to expand my love and knowledge for the sport of rodeo while traveling all over the state of California and Texas. As the 2022 Clovis Rodeo Queen, I have had the honor to represent the town in which I have lived in my entire life, Clovis, California. As a little girl, the last weekend in April was guaranteed to be filled with fun and excitement, we wouldn't miss the Clovis Rodeo for the world! I've always been inspired by the Rodeo Queens, I would even practice my queen salute racing around our arena on my jumper pony.
Having grown up in Clovis, one of the top agricultural counties, it was easy and enjoyable to represent our western way of life and its agriculture. These things are very near and dear to my heart and will always be a huge part of my life.
I fell more in love with this industry than ever before, being able to experience all of the hard work behind the scenes at each rodeo! It is truly amazing how everyone works so hard to put on such an incredible event! I am forever grateful for this time, this industry, the Clovis Rodeo, and every one of you who made it such a special experience along the way.
Throughout this past year, I was blessed to attend so many incredible rodeos. To name a few: the Fort Worth Stockyards Pro Rodeo, the Cinch Finals Rodeo at the Texas State Fair, the Salinas Pro Rodeo, and Glennville Pro Rodeo. Each and every rodeo I attended was unique and I am so thankful for the incredible friendships I made at each event. From the bottom of my heart, thank you to each and every person I met along this journey that welcomed me and treated me with kindness.
I am so blessed to have had the opportunity to represent the Clovis Rodeo and everything we stand for. Thank you for letting me represent the sport I love and am passionate about. The relationships and connections I have made this year have been unforgettable, from fellow queens, to rodeo fans, each relationship means so much to me. I've been able to see little glimpses of heaven and people I consider to be angels on earth. These encounters will be something I will cherish forever.
In August of 2022, I decided to move to Texas to pursue my dreams. I am currently going to school at Texas A&M University, majoring in Agricultural Engineering as well as Weapons Engineering. Gig 'Em! I hope to use my Agricultural Engineering degree and farming background to help expand the future of agricultural machinery and systems. I also hope to become a Weapons Engineer to create useful and effective weapons for military use. Even in Texas, I am involved in my community. I am a member of Gamma Phi Beta Sorority, in which our philanthropy is "Building Strong Girls." Our mission supports strong women, building strong girls. Moving to Texas has opened up even more opportunities for my queen year. I was able to travel to different rodeos throughout the Lone Star State representing the well-known Clovis Rodeo, which has been astounding!
What I'm most touched by is all of the love I was shown on this ride, and my guardian angels guiding me along the experience. I would like to especially thank my parents and family, Tish Wilhite, Brian Avery, Sally Rome, the Gobeli family, the Simpson family, the Bower family, Julie Ewing, The 500 Club, the Clovis Kiwanis Club, the Clovis Rodeo Association, all of the Clovis Rodeo Committee members, and of course all of my equine partners, for absolutely everything this year. I would not be here without you!
This organization will always have a huge impact on my life and am so grateful to forever be a part of a wonderful rodeo. Best of luck to the future queens! I'm looking forward to seeing y'all at the 109th Clovis Rodeo!
As this cowgirl rides away, love always and many thanks,
Preslye Ede
Miss Clovis Rodeo 2022
Clovis Rodeo Queens by Year
1916    Marian D. Armstrong
1917    Ella Swigart
1918    Mildred Morrison Sharer
1919    Nola DeWees
1920   Clara McCormick
1921    Margaret Bell
1922   Dorothy Bridges
1925    Flora Vest
1926    Irene Black
1927    Vivian Jones
1928    Kathleen Broadwell
1929    Blanche Coker
1933    Bessie Michaelides (Saturday Queen)
             Helen Ball (Sunday Sweetheart)
1934    Mae Givaudan
1935    Bertenis Gallemore
1936    Barbara Clark
1937    Barbara Anderson
1938    Julia Givaudan
1939    Marie Smith
1940    Irma Pendergrass
1941    Frances Armstrong
1942    Peggy Parnell
1948    Sally Cecil
1949    Bobbie Qualls
1950    Sally Sample
1951    Reno Browne  (Hollywood actress)
1952    Margaret Kennedy
1953    Janet Fairchild
1954    Margie Cook
1955    Claudia Conkey
1956    Sandra Morgan
1957    Claudia Allred
1958    Janice Eppler
1959    Judy Allred
1960    Helen Badasci
1961    Bunny Erickson
1962    Sandy Jackson
1963    Bobette Rich
1964    Jody Shoults
1965    Debbie Van Buren
1966    Jenny Showalter
1967    Tandy Anderson
1968    Terri Lockwood
1969    Joanne Quinn
1970    Suzanne Hyde
1971    Maggie Quinn
1972    Pam Prickett
1973    Cathy Duke
1974    Jana Jones
1975    Lauri Bianchi
1976    Lynn Merriman
1977    Beth Riley
1978    Meg McCarthy
1979    Jeanette Leer
1980    Karen Waltz
1981    Cricket Demings
1982    Andrea Lowe
1983    Ranay Maslowski
1984    April Gaede
1985    Lisa Garabedian
1986    Debbie Valdero
1987    Teresa Fetter
1988    Stacy Lynn Johnson
1989    Marci Demings
1990    Tammy Ripley
1991    Stacey Valdero
1992    Claudia Stone
1993    Amy Gulke
1994    Kristi Reigh Brangle
1995    Andrea Nicholson
1996    Kristen Cotter
1997    Tara Sagniere
1998    Dawn Lightfoot
1999    Candace Reinhard
2000    Kristen Fosnaugh
2001    Megan Meadows
2002    Holly M. Andrus
2003    Chrystle Alberta
2004    Kadee Coffman
2005    Shannon Walker
2006    Dayna Iverson
2007    Ashley Hoffmann
2008    Markie Battaglia
2009    Brittany Slaton
2010    Samantha Lozano
2011    Courtney Thomas
2012    Hollie Kucera
2013    Kayli Gobeli
2014    Jocelynn Barrington
2015    Alicia Aluisi
2016    Katie McDougald
2017    Madison Jones
2018    Kaitlyn DeMott
2019    Lauryn Patterson
2021    Corissa King †
2022    Preslye Ede
2023    Lilly Kier
† Due to the COVID pandemic, the rodeo was canceled in 2020.
Would you like to be the next Clovis Rodeo Queen?