Clovis Ranch Rodeo – Saturday, August 11
Cowboys and cowgirls from throughout the Central Valley compete in this day long event for more than $16,000 in prizes including custom made saddles and silver bits. Traditionally held at the beginning of April, the best riders and their horses must ride, rope, brand, rein and perform cow work exercises against each other.  They are competing in the kind of ranching activities they must do every day on their working cattle ranch operations. Each team consists of four (4) riders who must use their same horse for the entire event.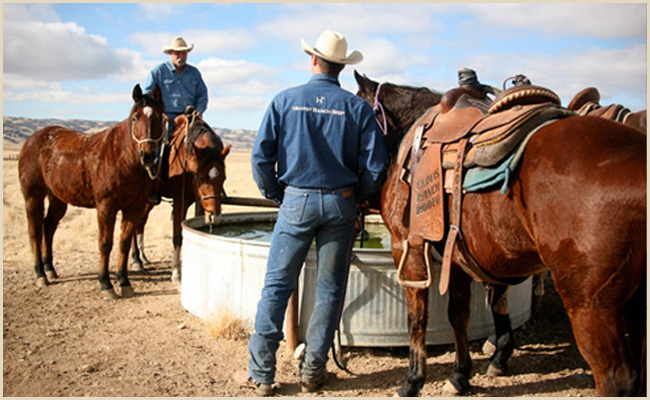 2006 Clovis Ranch Rodeo winner, Ryan Pasco, puts his saddle to use at the
Hearst Ranch in San Simeon, California. Photo Courtesy of Richard Field Levine


 THE CLOVIS RODEO THANKS THE 17th ANNUAL RANCH RODEO EVENT MAJOR SPONSORS
EYE-Q, Vince Genco, Sam Habib, Cargill, Evans Feed, Greg Harlan, Ricotti Saddles, Classic Equine, Ron Silva Reality, Bob Avila /Professional Choice, Troy Ford, DVM, Rick Drayer, Hall Ag, Gene & Kellie Roberts, Monte Person and Son Cattle, George Porter, Gary Gragnani, Cecil Hillerman, Kevin & Tami Cantrelle, Sidewinder Chaps & Leather, Quality Machinery and Jon & Jodie Semper


2017 Winning All Around Teams
First Place:  Nikki Neal (Modesto,CA), Taylor Hurley (King City, CA), Mikael Bernadette (Aromas, CA) and Kasey Hurley (King City, CA)
Second Place: Gene Roberts Sr., Zeb Burroughs, Frank Heinrichs and Dan Erickson
Third Place: Lee Whitney, JW Brewer, Don McCaslan and Joe Clarot
See the Complete 2017 Ranch Rodeo Results!

  Clovis Ranch Rodeo 2017 Final Results