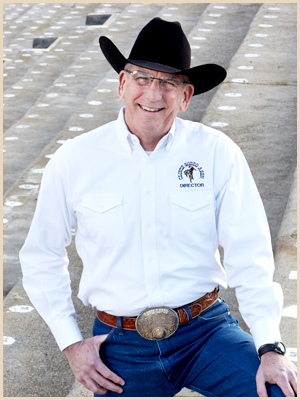 President's Message
Thank you for joining us and being a part of a Clovis tradition for 100 years. As an all volunteer, not-for-profit association we recognize it is because of the support of rodeo fans like you that we are able to give back to numerous schools, charities and organizations in our community year after year.
The Clovis Rodeo represents a family tradition for so many of us. I got started with the rodeo because growing up on a ranch in Clovis the rodeo was a part of our own family tradition. My father, Emmett Rigsbee and brother Dan Rigsbee have also volunteered and served on the board of directors. Our family is proud to of been involved in growing a Clovis family tradition into one of the top three rodeo's in California and top fifteen in the nation. Always the last weekend of April, it is a time for family and friends to gather and enjoy the western way of life.
If this year will be your first rodeo – thank you for making a visit to Clovis. If this rodeo is a part of your family tradition, thank you for being a part of our rodeo family. It is because of fans like you that we work hard to produce one of the best shows on dirt year after year. We promise world champion cowboys, some of the finest rodeo stock in the business and one of the best tri-tip sandwiches you'll ever eat. Not to mention a couple of amazing concerts, a parade and the rodeo dance thrown in there just to make sure there's no down-time between rodeo performances.
Since 1914 the Rodeo has been made possible because we have an incredible group of dedicated volunteers who work all year so there is a Clovis Rodeo the last weekend of April. It is also because of our many generous rodeo sponsors who partner with us to make a difference in the community. We hope you'll join us in thanking them.
Thank you to the 700 members of the Clovis Rodeo Association, the volunteers, my family, friends, rodeo fans and sponsors for making a difference in our community and supporting the Clovis Rodeo Association.  It is once again an honor to serve this association as president and be a part of the family tradition that is the Clovis Rodeo.
Let's Get Ready to Rodeo!
Chuck Rigsbee, President
Clovis Rodeo Association