President's Message
For most of us giving back and helping our community is a big part of why each of us continues to be involved in the Clovis Rodeo.  We're an all-volunteer, non-profit organization that gives back more than $250,000 annually to support local organizations like the Boy Scouts, 4-H, FFA, the Young Marines, Boys and Girls Club, Clovis Police Department, Valley Children's Healthcare, Marjorie Radin Breast Cancer Center at Clovis Community Hospital, California High School Rodeo, College Rodeo and that's really just to name only a few.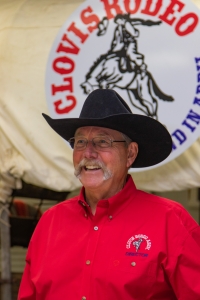 The rodeo was started more than 100 years ago as a celebration for the community, a time to get together and celebrate our western way of life.  Today, that same spirit continues.  We get together to support our community and remember our history.  Giving back and helping our community is a big part of why each of us involved in the Clovis Rodeo.
As one of the top twelve rodeos in the nation we are a major stop for the cowboys and cowgirls on the Professional Rodeo Cowboys Association (PRCA) tour.  We're known for having some of the best bucking stock in rodeo and that turns out the top cowboys and cowgirls in the sport.  That means a great rodeo for our fans!  Add to that some great concerts and plenty of good food and cold beverages; and the last full weekend in April is best spent in Clovis, California.
If you've never been to a rodeo before, we encourage you to visit and if you're a returning fan – welcome back.  There's plenty of excitement all month long beginning with the Ranch Rodeo and Jackpot Roping followed by the John W. Jones Steer Wrestling, James Pickens Jr. Team Roping and our annual Rodeo Blood Drive.  All before the competition even begins.
My special thanks to our more than 90 rodeo sponsors who support us and help us make a difference in our community.  We couldn't do it without each and every one of you.
And my appreciation to the rodeo committee, volunteers and you our rodeo fans.  Thank you for making the 105th Clovis Rodeo a success before it even happens.
We look forward to seeing all of you April 25-28 for a celebration of our community and our rodeo heritage.
Let's Get Ready to Rodeo!
Ken Elliott, President
Clovis Rodeo Association