President's Message
Thank you for joining us for the 103rd Clovis Rodeo.  As an all-volunteer, non-profit association, we recognize it is because of the support of rodeo fans like you that we are able to continue to grow the Clovis Rodeo and give back more than $200,000 annually to local schools, service clubs and non-profit organizations in our community.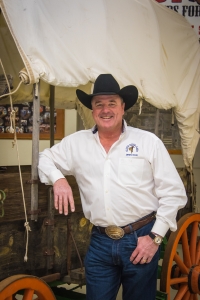 I would once again like to thank the 700+ volunteer members of the Clovis Rodeo Association and our generous sponsors for making a difference in our community by supporting the Clovis Rodeo Association.  It is an honor to serve this association as president and to be a part of the family tradition that is Clovis Rodeo.
The Clovis Rodeo represents a family tradition for many of us.  Rodeo is a big part of my family.  My wife and our twos sons, along with their wives, are all active members of the rodeo association.  My family is proud to be involved in growing a Clovis family tradition that is one of the top two rodeos in California and one of the top ten PRCA rodeos in the nation.  The last weekend in April is always a time for family and friends to gather and celebrate our western way of life.
We had another great year, with standing room only at all four performances.  The week began with the J. W. Jones Memorial Steer Wrestling honoring one of the best steer wrestlers in the country.  We hope to make this an annual event at the Clovis Rodeo Grounds.  We also hosted the James Pickens, Jr. Team Roping.  The Pickens Foundation presented a check for $8,540.00 to Clovis Rodeo Foundation following this event. This money goes back to the community, benefitting local schools, service clubs, and other non-profit organizations.
I enjoyed my first year as president and am looking forward to my second term.  We started in June planning for the 104th Clovis Rodeo.  We plan on it being bigger and better than ever.
Get ready to rodeo!
Gary Bower, President
Clovis Rodeo Association