President's Message
Our Board of Directors and hundreds of awesome volunteers are working hard to make the 104th Clovis Rodeo another record setting year.  As an all-volunteer, non-profit association, we recognize it is because of the support of rodeo fans like you that we are able to continue to grow the Clovis Rodeo, and give back more than $200,000 each year to local schools, service clubs and non-profit organizations in our community.
The Clovis Rodeo represents a family tradition for many of us.  Rodeo is a big part of my family.  My wife and our twos sons, along with their wives, are active members of the rodeo association.  My family is proud to be involved in growing a Clovis family tradition that is one of the top two rodeos in California and one of the top twelve PRCA rodeos in the nation.  The last weekend in April is always a time for family and friends to gather and celebrate our western way of life.
We are proud of our Gold Tour status on the elite Wrangler Million Dollar Tour, which makes Clovis Rodeo one of only nine rodeos in the world where added money and stock from the top contractors in the industry attract the sport's best competitors. In an effort to keep Clovis Rodeo one of the premier professional rodeos in the world today, the Board of Directors has increased the prize money to continue attracting the top competitors in the world.  This substantial amount of added money, combined with stock from the top contractors in the industry, assures fans they will see the best of the best in competition.
We hope you will join us as the excitement builds during the month of April, which will kick off beginning with our Ranch Rodeo, where you can come out and watch four-person teams of local cowboys and cowgirls compete in working ranch events.  This will be followed by our Te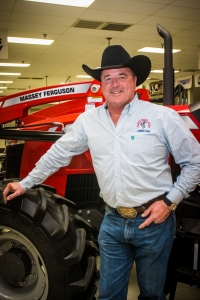 am Roping.  If you're a fan of talented young cowgirls and top-notch horses, you won't want to miss the horsemanship competition for Miss Clovis Rodeo.  And, team roping fans won't want to miss the James Pickens, Jr. Foundation Charity Roping.  Admission is free to all of these events.
You won't want to miss any of the entertaining activities planned for Clovis Rodeo Week.  This year we have two great concerts by platinum recording artists.  On Thursday night, Chris Janson will perform following the PBR Touring Pro Division bull riding, and Cam will perform after our Friday-night PRCA rodeo performance.  The Clovis Rodeo Parade will wind through Old Town to kick off the festivities on Saturday morning, followed by the rodeo performance.  Saturday is Patriot Day, so join us in paying tribute to members of our military, past and present, by wearing your red, white, and blue.  The fun will continue following Saturday's rodeo at our 4th Annual Rodeo After-Party in the vendor area.  You will be able to listen to great country music while enjoying a world-famous Clovis Rodeo tri-tip sandwich and ice cold Coors beer.  All vendors will remain open during the After-Party.  You can then head on over to the Rodeo Hall for the Rodeo Dance to cap-off the night!  Sunday's events will begin with our Special Kids Rodeo in the morning followed by the rodeo finals that afternoon.  Sunday will be Tough Enough to Wear Pink day, so wear your pink with pride!  A portion of all of Sunday's ticket sales will go towards promoting breast cancer awareness in our community.
Thank you to the 700+ members of the Clovis Rodeo Association, the volunteers, our rodeo fans and friends, and our generous sponsors for making a difference in our community by supporting the Clovis Rodeo Association.  It is an honor to serve this association as president and to be a part of the family tradition that is Clovis Rodeo.
I know you and your family will have a great time sharing the Clovis Rodeo Association's passion for our Western heritage.  Now, let's rodeo!
Gary Bower, President
Clovis Rodeo Association