President's Message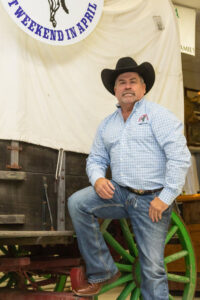 It just isn't Spring in California unless you've experienced the Clovis Rodeo.  It is an integral part of our community and my family's history that has become a part of the Clovis Way of Life.   As hard as we work to make it happen every year, I never get tired of visiting with family, seeing old friends, making new friends and giving back to my community.
It's just the right thing to do!
The Clovis Rodeo is an all-volunteer, non-profit organization that gives back more than $350,000 annually to support local organizations including 4-H, FFA, Clovis Schools, Clovis Police, California High School Rodeo Foundation, Make-A-Wish Foundation, Break the Barriers, Boy Scouts of America, Clovis Community Hospital, Majoree E. Radin Breast Care Center, Valley Children's Healthcare Foundation, Fresno State Veteran's Education Program and the Central California Blood Center.
What started out more than 108 years ago as a community event, and then became a 2-day rodeo, has grown into a 5-day event kicking off with bull riding followed by 4-days of PRCA rodeo action, that generates an economic impact of more than $15 million for our region.  It began as a time to bring our community together, and has grown into one of the top 10 Professional Rodeo Cowboy Association (PRCA) rodeos in the nation.  With a total winning purse of more than $400,000 we bring in world champion cowboys and cowgirls and some of the best bucking stock in the sport from throughout the country.
While I know you might think that I am a little partial, but I have visited a lot of rodeos throughout America, and it really is, hands down, one of the best rodeo performances you will ever see!  We've added in concerts during the weeknight performances, a parade, Gold Card Roping, Breakaway Roping, Jackpot Roping, Ranch Rodeo and one of the largest blood drives in the nation over the years to make it more than a month of great rodeo events.
Some have asked me why I've been involved for so long – honestly – It's the roar of the crowd that makes this all worthwhile every April.  Trust me, as one of the arena boys, there is nothing more exciting then standing in front of the rodeo chutes, watching a cowboy make a 90-point ride on a bareback horse and hearing our hometown crowd cheer.
We hope you'll join us April 20-24, and become a part of our rodeo family.  We have some of the best fans in the sport.  Not to mention some of the best tri-tip sandwiches around.
A special thanks to our rodeo sponsors who support us and help us make a difference in our community.  And my appreciation to the rodeo committee, our families and our volunteers for helping us make it all happen.
Come join us for the 108th Clovis Rodeo April 20-24 – we promise you a good time and lots of good memories!
Ron Dunbar, President
Clovis Rodeo Association