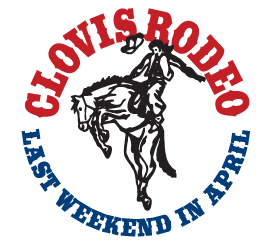 Clovis Rodeo Association 2023 Board of Directors
There is a legend that says rodeo got it's start when "one ranch said they had a horse that couldn't be rode, and another ranch said they had a cowboy that couldn't be thrown." Rodeo is a unique part of American history and holds a rich place in our western heritage. For a dedicated group of volunteers, preserving the cattle ranching history of the region, the spirit of rodeo and the Clovis Way of Life is why you can find them hard at work on many a day, night and weekend.
Planning for the 108th annual Clovis Rodeo began the day after the rodeo finished in 2021. The board meets monthly, and sometimes more at the rodeo hall, to not just plan events throughout the year, but to primarily focus on a month of festivities that raise more than $350,000 annually for local charities. The all-volunteer Clovis Rodeo Association is dedicated to giving back to a community many of them have called home their whole life.
The all-volunteer, non-profit Clovis Rodeo Association (CRA) has more than 700 members. The board of directors is elected by a vote of the membership and oversees the management of the rodeo grounds. Proceeds from the Clovis Rodeo and related events coordinated by CRA benefit more than twenty-one local charities annually, including 4-H, FFA, Clovis Schools, Clovis Community Hospital, Valley Children's Healthcare, Fresno State Rodeo Team, Make-A-Wish Foundation, Break the Barriers, Boy Scouts of America, and the Central California Blood Center.
If anything the Rodeo Association understands, it is the rich and meaningful history that sets the community of Clovis apart. Remembering your roots and what it took to get here helps us have a deeper appreciation for the days ahead.
As we look forward to the next rodeo, the board of directors, associate directors, members, supporting charities, non-profits and service clubs who have devoted countless volunteer hours to making it happen, year after year, look forward to hosting you.   Know your support will impact your community in a number of ways including the funding of camp for the boy scouts, a bloodmobile for the blood center, the efforts of the Clovis American Legion post to assist our veterans, the Clovis Police Department, breast cancer research, Boys and Girls Club and Clovis Schools.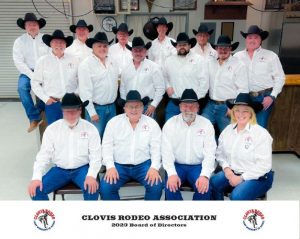 Members of the 2023 board of directors include: Front Row:  George Thornburg, Vince Genco, Clancy Wardle and Karen Thompson; Second Row: Ken Elliott, Gene Bruce, Ron Dunbar, Ben Genco, Bryan Gruenwald and Gary Bower; Third Row: Justin Menard, Danny Swenson, Mark Thompson, Greg Gillard and Dan Rigsbee (Not Pictured:  Mike Peoples, Radar Ryan and Chuck Rigsbee)