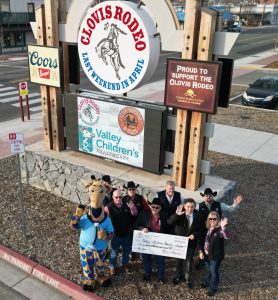 7th Annual Kids Cowboys and Clays
OCTOBER 28, 2023
We are proud to be partners with the Valley Children's Healthcare Foundation to host the 7th Annual Kids Cowboys and Clays event.  Together we're making sure the resources are available to take care of our children.  Since the event's inception more than $110,000 has been donated to Valley Children's through Kids Cowboys and Clays.
We invite you to join us in giving back by supporting the 7th annual Kids Cowboys and Clays event on Saturday, October 28. It was begun in 2017 by the Clovis Rodeo Foundation because putting kids first, and making a better future for them remains a cause close to our hearts. Proceeds from the event benefit the Valley Children's Healthcare Foundation and the Clovis Rodeo Foundation.
Please join us on Saturday, October 28 at Sun Mountain Gun Club in Coarsegold while we work hard to surpass our goal again. Your support as a sponsor of the event or participant is appreciated.  There will be both a registered and hunter category.  Limited spaces will be available.  Registration materials will be posted here when they are available closer to the event date.
For more information email clayshoot@clovisrodeo.com or call the Rodeo Office 559.299.8838
Safety of our guests is our first priority, all firearms must be handled in a responsible manner.  A mandatory safety meeting will always be held prior to the start of the event and a safety officer will be on the course at all times.