Read Below then Download the FORM to sign up!  After filling out the form email it to clayshoot@clovisrodeo.com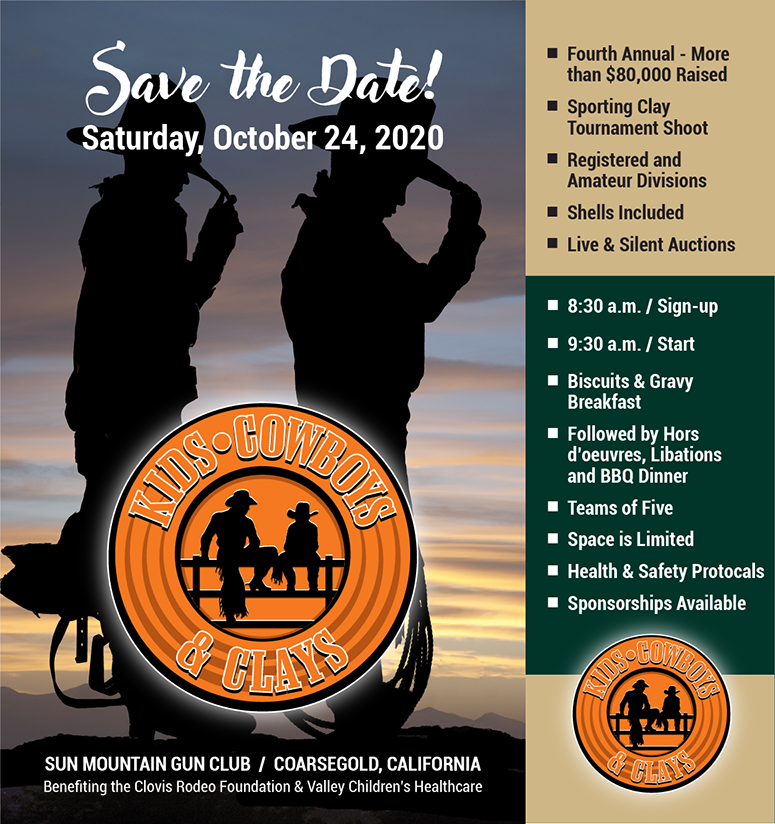 JOIN US OCTOBER 24
In these unprecedented times it is more important than ever for us to come together and support local nonprofits who give so much to our community. We are proud to be partners with the Valley Children's Healthcare Foundation in making sure resources are available to take care of our children.
We invite you to join us in giving back by supporting the 4th annual Kids Cowboys and Clays event on Saturday, October 24. It was begun in 2017 by the Clovis Rodeo Foundation because putting kids first, and making a better future for them remains a cause close to our hearts. Since the beginning we have raised more than $80,000 benefiting Valley Children's Healthcare Foundation and the Clovis Rodeo Foundation.
Please join us on Saturday, October 24 at Sun Mountain Gun Club in Coarsegold while we work hard to surpass our goal again. Your support as a sponsor of the event or participant is appreciated.  There will be both a registered and an amateur category. Awards will be given for both registered and amateur divisions, high squad, high ladies, high youth, high individual, etc.  Ticket price is $160 per person including dinner.  Limited spaces are available so register today.  All health and safety protocols will be implemented for this event.
For more information email clayshoot@clovisrodeo.com or call the Rodeo Office 559.299.8838