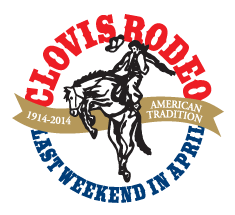 Tickets for the 101st Clovis Rodeo will go on sale January 15, 2015
Clovis Rodeo April 23-26, 2015

Rodeo 101
We are already working hard to prepare for the 101st Clovis Rodeo and look forward to having you join us April 23-26, 2015 for more heart stopping, hoof pounding action always found in Clovis, California during the last weekend of April!
Tickets will go on sale January 15, 2015.  The ticket office at the Clovis Rodeo grounds will be open on January 15 for one day only from 9 a.m. to 5 p.m. The ticket office will not open again until March 2, 2015.  Tickets will  be available online beginning January 15 until the end of April.
More great rodeo action, the rodeo parade, dance and concerts are planned.
Watch for us to make an announcement about the Thursday, April 23 and Friday, April 24 concert acts on Thursday, April 15!!!  Listen to KISS Country 93.7 at 7 a.m. on Thursday, January 15 to find out this year's rodeo concert acts!