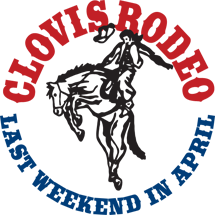 Thank you Rodeo Fans!
 Join Us for the 103rd Clovis Rodeo April 27-30, 2017
One of the top rodeos in the United States we hope you'll make plans to join us for more PRCA Gold Tour Rodeo action in 2017.  Always the last (full) weekend in April.  Tickets for the 103rd Clovis Rodeo will be available in January 2017 .
(For the comfort and safety of all guests, no ice chests, umbrellas, shade structures, strollers, signs or outside food and beverages are allowed into the rodeo and related events.  As a professional sporting event and no cameras, recording equipment or videos are permitted in the rodeo or related events.  Gates open at least one hour prior to show time.  All sales are final.  Lost, stolen or damaged tickets may not be replaced.


Clovis Rodeo Becomes One of Only Seven Wrangler Gold Tour Rodeos in 2016
The Clovis Rodeo joined the elite Wrangler Gold Tour for its 102nd year; becoming one of only seven in the world where added money, and stock from the top contractors in the industry, attract the sports best competitors.
In an effort to keep Clovis Rodeo one of the premier professional rodeos in the world today, the board of directors increased the prize money for 2016 to $20,000 per event ($40,000 in team roping) to continue to attract the top competitors in the world.  The substantial amount of added money to the rodeo combined with stock from the top contractors in the industry, assures fans they will see the best of the best in competition.
Clovis Rodeo Arena Director, Vince Genco said fans will see, "National Finals Rodeo quality competition right here in their own backyard."


Clovis Ranch Rodeo Scheduled for Saturday, August 13, 2016
Cowboys and cowgirls from throughout the Central Valley compete in this day long event for more than $16,000 in prizes including custom made saddles and silver bits. The best riders and their horses must ride, rope, brand, rein and perform cow work exercises against each other; competing in the kind of ranching activities they must do every day on their working cattle ranch operations. Each team consists of four (4) riders who must use their same horse for the entire event.
Usually held during the month of April, the 16th Annual Ranch Rodeo was postponed earlier this year due to weather.  The event will now be held on Saturday, August 13.   Ranch Rodeo action will begin about 9:30 a.m. in the Clovis Rodeo Arena.  There is no admission charge for fans.
Qualifying Ranch Rodeo teams interested in participating should contact the Clovis Rodeo office at 559-299-8838 for more information.