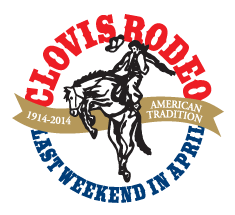 Thank you Rodeo Fans!
Join Us for the
102nd Clovis Rodeo
April 21-24, 2016
 Early Bird Ticket Opportunity
The 102nd Clovis Rodeo will take place April 21-24, 2016.  Those rodeo fans wanting to make sure they have the best seats in the house for 2016 will find an "early bird" opportunity awaiting them with the ability to purchase tickets the week following this year's rodeo, April 27-May 1.  The Clovis Rodeo ticket office will be open from 9:00 a.m. to 4:00 p.m. daily.  On-line ticket sales will be available by visiting clovisrodeo.com beginning Tuesday, April 28.  For rodeo fans who don't take advantage of the early bird window before it closes, tickets will not be available for the 102nd Clovis Rodeo until January 2016.