Ticket Office Closed
Thank you to our great rodeo fans!   We appreciate your patience and support.  The ticket refunds/exchanges opportunity for 2020 tickets ended on June 26.  Our ticket office is now closed.  If you took advantage of the 2020 ticket exchange window and have questions or problems printing your 2021 rodeo tickets you may contact the ticket office via email at tickets@clovisrodeo.com.  As we are currently closed please allow up to 72 hours for a response.  
---

June 29, June 30 and July 1
For the Clovis Rodeo Association it is about being Cowboy Strong and helping your community by doing the right thing, not just during a crisis, but every day.  Recognizing the summer months are normally one of the most challenging times for blood supplies nationwide, the Clovis Rodeo Association and the Central California Blood Center have partnered to host the Cowboy Strong Blood Drive June 29 – July 1 at the Clovis Rodeo Hall.
The three-day blood drive will take place from 9 a.m. to 5 p.m. daily June 29, June 30 and July 1.  Qualified donors can make an appointment in advance by visiting https://signup.com/go/SgRfPDa or by calling 559-389-5433.  Walk-ins will be welcome as well on a first come, first serve basis.  The set-up of the blood drive will include added precautions and screening as called for under the community's current social-distancing guidelines.
"Our Clovis Rodeo family has always made it a priority to give back and support our community.   While we are disappointed that the rodeo did not take place this year, that doesn't mean we can't be Cowboy Strong and continue to work together to make a difference.  said Ken Elliott, Clovis Rodeo Association President.  "We hope Clovis residents and friends will join us June 29 – July 1 to make sure the Central California Blood Center has the critical blood donations they need to save lives in the coming summer months."
Blood donation takes less than one hour to complete.  Donors must be 18 years old, in good general health and weigh a minimum of 110 pounds.  Donors who are 16 or 17 years old may donate, but must have written parental consent.  Senior citizens are encouraged to donate, as there is no upper age limit.  Donors should eat a good meal and drink plenty of water within four hours prior to their donation.  Donors can give blood every eight weeks.  Photo ID is required at donor registration.
The Central California Blood Center is the sole provider of blood and blood products for more than 20 hospitals in Fresno, Tulare, Madera, Kings and Mariposa Counties and must collect between 5,000 to 6,000 pints of blood a month to meet the needs of our Valley community.
The annual Clovis Rodeo Blood Drive will return in 2021 and is set to take place on Tuesday, April 20.
---
Let's All Be Cowboys!
Honoring the Clovis Rodeo tradition we thought young cowboys and cowgirls might like to download this coloring page.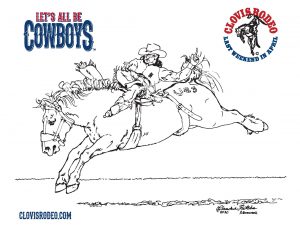 Download the page here – 2020 Coloring Cowboy
The coloring page by rodeo artist Claudia Fletcher depicts a winning ride for four time world champion bareback rider Kaycee Feild in 2018 at the 104th Clovis Rodeo during the Sunday finals performance.  He took an 82.5 ride on Calgary Stampede's Upton Girl.  One of only two qualified rides for the bronc during the 2018 season.  Uptown Girl had a 100% buck off score for the 2019 season with no qualified rides.
---
It is with heavy hearts that we announce the 2020 Clovis Rodeo     scheduled to take place April 22-26, 2020 is now cancelled due to COVID-19.

It is with heavy hearts that we announce the 2020 Clovis Rodeo is cancelled due to COVID-19.    A longstanding tradition for the community, it was not a decision that came easily for the Clovis Rodeo Committee.  It was a decision made because the health and welfare of our friends and neighbors must come first.
Carrying on our American Cowboy Tradition is important to each of us, the volunteers, sponsors, partner organizations and our community.  Coming together to celebrate our Clovis Way of Life with friends, neighbors and visitors is something we look forward to every Spring.  We tip our hats and extend our appreciation to the community, our fans and sponsors who have stuck with us and help to support the numerous charities and organizations that benefit from the Clovis Rodeo annually.  We couldn't do any of this without each and every one of you.  We're Stronger Together.  We look forward to the 107th Clovis Rodeo April 21-25, 2021.
Ticket refunds or exchanges for the 2020 rodeo will honored.  For the full refund policy please see below.
All other events traditionally held in April including the Jackpot Roping and Ranch Rodeo have also been cancelled.
2020 Ticket Exchange/Refund Policy
We deeply regret that we must cancel the 2020 Clovis Rodeo due to COVID-19.  For those who have already purchased their 2020 Clovis Rodeo tickets you have three options 1) Exchange your tickets for the 2021 rodeo performance 2) Receive a refund for tickets purchased, or 3) in lieu of refund you may also donate the face value of your tickets to the Clovis Rodeo Foundation.
Effective Wednesday, March 25 all tickets purchased for the 2020 rodeo can be exchanged for next year's event to take place April 21-25, 2021.  The event schedule for next year remains the same, and all 2020 tickets must be exchanged for the respective performance and seat purchased to be valid for 2021.  We cannot guarantee that specialty acts or concert acts will remain the same as previously advertised.
If you ordered your tickets online, and would like to exchange them for the 2021 performance you will be notified by email with a new confirmation number for your 2021 tickets.  The new confirmation number will be sent to the email on file for the order so you can print your 2021 tickets at home.
For 2020 ticket holders who do not want to exchange their tickets and prefer to receive a refund for tickets purchased, please email your request from the email address used to purchase your tickets to tickets@clovisrodeo.com or call 559-299-5203.   Include your ticket order confirmation number with all communications. Your refund, except for mail and handling fees, will be automatically delivered to the same card, or manner, in which tickets were purchased.
You are encouraged to use email for any refund requests so that you can receive prompt attention.  All tickets paid for with cash or check must be presented to the Rodeo Ticket Office (by the original purchaser) for 2021 exchange or refund by June 26, 2020.  We will announce Ticket Office hours of service when the shelter at home period has been lifted.  Visit www.clovisrodeo.com for the latest information.
Ticket buyers will also be given the opportunity to donate their refund to the Clovis Rodeo Foundation (501c3) to support the many organizations and charities that benefit from the event annually.
No additional tickets for the 2021 Clovis Rodeo will be available for purchase until January 2021.