SEE MANDATORY ENTRY REQUIREMENTS AND TICKETING DETAILS BELOW
THERE ARE SOME TICKETS AVAILABLE NOW AT THE CLOVIS RODEO TICKET OFFICE
Get Your Tickets Today! 
Office is open Mon – Fri 9 a.m. – 6 p.m. and Sat 9 a.m. – 3 p.m.
107th Clovis Rodeo – April 21-25, 2021
 We appreciate your support!  The economic impact generated for the region and rodeo's nonprofit partners is important to our community's recovery and was a major factor in our decision to move forward with this year's rodeo.  Keeping our community safe critical.   This year's event will not look the same as it has in past years, and we're going to have to wear our masks; but we promise the same great rodeo performances, plenty of those amazing tri-tip sandwiches and a forecast full of good times with good friends.  There will be a PBR bull riding performance on Wednesday night and four rodeo performances Thursday, Friday, Saturday and Sunday.  We will not be able to have a parade, dance, or concerts this year, and there will be a limited seating capacity for all performances so we can maintain social distancing.

---
Let's Rodeo!
Fan Favorite barrelman Flint Rasmussen will return for the PBR Touring Pro Division on Wednesday, April 21, and look out for barrelman JJ Harrison Thursday – Sunday along with rodeo trick riders Magic in Motion!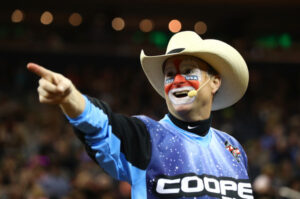 Entry Ticketing Information for 2021
The Clovis Rodeo has been working closely with the City of Clovis and County of Fresno so we can host the 107th Clovis Rodeo April 21-25, 2021 at a 40% capacity.   Thank you for your patience while we reworked our ticket program to accommodate for the adjusted seating capacity, and consulted with the Fresno County Department of Health to implement the COVID-19 restrictions and regulations that must be followed.
Here's what you need to know for entry into the Clovis Rodeo Grounds this year.
ENTRANCE REQUIREMENTS
Face masks must be worn by all attendees 2 years old and older except while eating or drinking.
Proof of a complete COVID-19 vaccination -OR- a negative test result taken within 72 hours of the first performance you attend.

Children under the age of 13 years are not required to be tested.
Those who have recovered from COVID-19 within 90 days of the rodeo will not need to test or
show proof of vaccination if they have a letter from their physician verifying COVID-19 recovery.
Valid legal personal identification to be shown (Driver's License, Passport, Government-issued ID.)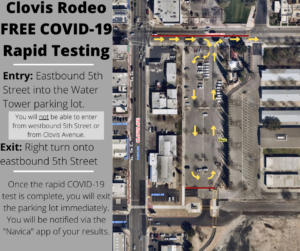 The Fresno County Department of Health and Sierra Pacific Orthopedics (SPOC) will offer FREE COVID-19 Rapid Antigen Testing in the Water Tower Lot by the Clovis Rodeo beginning Monday, April 19 through Friday, April 23 from 9 a.m. – 3 p.m.  After the lot closes testing will be available by the rodeo ticket gate.
We strongly encourage ticket holders take advantage of obtaining a COVID-19 test in advance at local testing centers offered throughout the community – a rapid antigen test or any valid COVID-19 negative test result is acceptable for entry into the Clovis Rodeo Grounds.
These rules are in addition to our standard requirements such as no videos, cameras or recording devices, ice chests, strollers, or umbrellas, etc.) for 2021. 
TICKETING
Seating will be reserved by section with social distancing based on allowed occupancy.
Priority ticketing will be given to patrons who retained their 2020 rodeo tickets.
Any 2020  or 2021 tickets issued before March 1, 2021 MUST BE EXCHANGED FOR 2021 TICKETS at the Clovis Rodeo Ticket Office.  Your valid tickets for 2021 will be a salmon color.
You must present personal identification to exchange your tickets.
Ticket Office hours are as follows:
            Saturdays:  9 AM – 3 PM 
            Monday – Friday:  9 AM – 6 PM 
There will be no "print-at-home" or mobile phone tickets for the 2021 rodeo. Only 2021 tickets issued at the Ticket Office will be valid for entry to the rodeo performances.
If you do not want to attend the 2021 rodeo and would like to receive a refund for your 2020 tickets all fees charged for your 2020 tickets are nonrefundable.
Refunds will not be honored after 5 p.m. on Friday, April 16, 2021.
To request a refund, please contact the Clovis Rodeo Ticket Office via email at tickets@clovisrodeo.com You may also leave a message at (559) 299-5203, however, it may take up to 72 hours for calls to be returned.
Ticket prices range from $20.00 – $35.00 dollars.