Tickets on Sale Now!
109th Clovis Rodeo!  April 26 – 30, 2023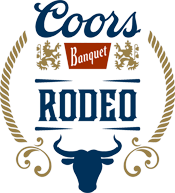 Tickets are on sale now, for the 109th Clovis Rodeo set to take place April 26-30, 2023.  Click the ticket above to purchase yours today or visit the ticket office at the Clovis Rodeo Grounds M-F 9 a.m. to 2 p.m.
Ticket prices range from $20.00 to $35.00.  There is no additional charge for concerts. Ticket buyers are encouraged to take advantage of a concert ticket package where with the purchase of any two concert night tickets you receive $5.00 off or buy all three concert night tickets and receive $10.00 off.  See below for this years concert lineup.

2023 Rodeo Concert Line-up

Help us honor the 2023 Clovis Rodeo Grand Marshals Judy Hedrick and Susan Frantzich!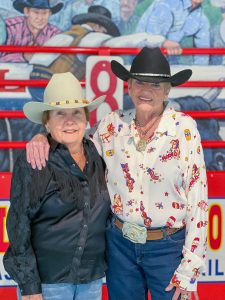 Commemorative Clovis Rodeo Poster NOW Available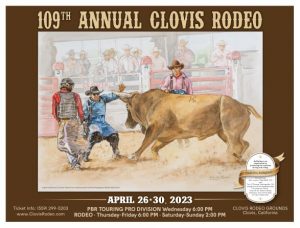 Some of the best moments in rodeo are depicted annually by artist Claudia Fletcher for the event's commemorative poster.  This year the scene is of longtime bullfighters Eric Layton (Red Bluff) and Tim O'Conner (Springville) doing one of the toughest jobs in the sport of rodeo.  These friends to the Clovis Rodeo, both inside and outside the arena, have retired and the poster is an opportunity to honor them for their friendship, and a job well done.  As bullfighters Eric and Tim are responsible for protecting the bull rider, and making sure he gets safely out of the arena after his ride.  These California cowboys retired last year after working with the Clovis Rodeo for more than 15 years.  Considered a couple of the best bullfighters in the business, Eric and Tim could be found working at most rodeos throughout the California Circuit.  The posters are available at the Clovis Rodeo ticket office, now open Monday through Friday 9 a.m. to 2 p.m.  The 26×32 inch posters are $15 each, or $25 for prints signed by the artist.