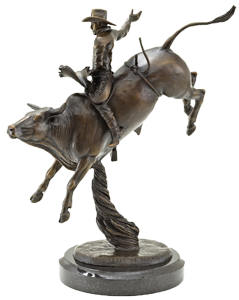 Centennial Celebration
Plan on joining the Clovis Rodeo for their Centennial celebration beginning with the "Cowboy" Gala on Saturday, September 14, 2013. Watch for news about many more events from art shows to a Madden Library series event in January 2014.
The bronze statue honoring the rodeo's centennial will depict Lane Frost's legendary attempt to ride Red Rock at the Clovis Rodeo. The statue will be placed at the entrance to the rodeo grounds in September 2013.  The statue will be officially dedicated at a ceremony in 2014.
Bronze plaques commemorating the Clovis Rodeo Centennial will be placed around the base of the statue and are available for purchase. The plaques will be installed at various times throughout the year leading up to the Clovis Rodeo in 2014.  If you are interested in purchasing a commemorative plaque please complete the purchase form below. There are also fifty smaller bronze statues available for purchase – if you are interested please fill out the purchase form below.
A commemorative book is also being published to honor the Clovis Rodeo's anniversary year – if you are interested in purchasing a book please use the order form below to reserve your copy today.
For more information on the plaques or any of the commemorative items, email your questions to: plaques@clovisrodeo.com.
Centennial Commemorative Items Order Forms:

  Commemorative Plaque Order Form

  Commemorative Bronze Order Form

  Commemorative Book Order Form