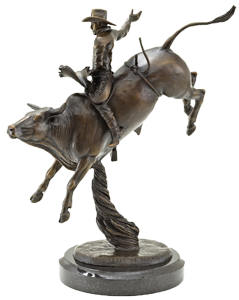 An American Cowboy Tradition Continues…
An American Cowboy Tradition continues  as we celebrate the 101st Clovis Rodeo.  We hope you will visit us this year and take a moment to see the ten times larger than life  bronze statue honoring  Lane Frost's legendary attempt to ride Red Rock at the Clovis Rodeo in 1988 installed to commemorate the 100th Clovis Rodeo.  The statue is at the entrance to the rodeo grounds.
Bronze plaques commemorating the Clovis Rodeo Centennial have been placed around the base of the statue and a few are still available for purchase.  A wonderful opportunity to honor your family or business and its connection to one of our communities oldest traditions.  If you are interested in purchasing a commemorative plaque please complete the purchase form below.
Fans can also find a copy of the ABC30 Special 100 Years of the Clovis Rodeo or the  commemorative book published to honor the Clovis Rodeo's anniversary year still available for purchase by visiting the web store or calling the ticket office at 559-299-5203.
For more information on the plaques or any of the commemorative items, email your questions to: plaques@clovisrodeo.com.
Centennial Commemorative Items Order Forms:

  Commemorative Plaque Order Form